Need a break from churches, museums, and paintings? Pack a picnic lunch and get your sneakers on. Follow me to the Boboli Gardens, it's worth it!
Take a breather, spend your day at the park
There comes a time during a visit to Florence when you really need to get some rest from all the beautiful, strictly cultural, things you're seeing (and from the throngs of tourists!) Well, if you're in the mood for a walk in the park, Florence has an amazing one waiting for you: the Boboli Gardens.
Is a visit to the Boboli Gardens worth it?
It most definitely is! Dating back to the Renaissance, when it was created for the exclusive pleasure of the lords of Florence, the Giardino di Boboli (Boboli Gardens in Italian) is a fairytale-like open-air museum, where nature, culture, and history blend one into the other. If you're touring Florence, a visit to the Boboli Gardens is worth it because you'll get to understand a lot about art and history while spending time outdoors surrounded by wonderful centuries-old trees and beautiful flowers.
Where and what are the Boboli Gardens?
The Boboli Gardens are located just behind the Pitti Palace, in the heart of Florence. Covering 45,000 square meters (111 acres) they are one of the first and most significant examples of what is called the "Italian Garden": a park with walkways, flowerbeds, scrubs, and trees arranged symmetrically and enriched by statues and fountains. This kind of garden, designed starting in the 16th century, became very fashionable, and Florence's Boboli Gardens inspired many European kings, queens, and nobility who decided to create their own landscaped gardens.
A bit of the Boboli Gardens' history
The Boboli Gardens were designed to please the Medici family, the lords of Florence, and especially Eleonora di Toledo, wife of Cosimo I. The first architect (or landscape designer, as we'd say today) who started working on the gardens was called Niccolò Tribolo, but he died in 1550, and Bartolomeo Ammanati, sculptor and architect, took his place. Other extraordinary artists and architects of the time, such as Giorgio Vasari and Bernardo Buontalenti, were also involved in the creation of the amazing grottos, statues, and fountains that adorn the park. The Boboli Gardens were further enlarged and enriched by the Medici and Lorraine families in the 17th, 18th, and 19th centuries.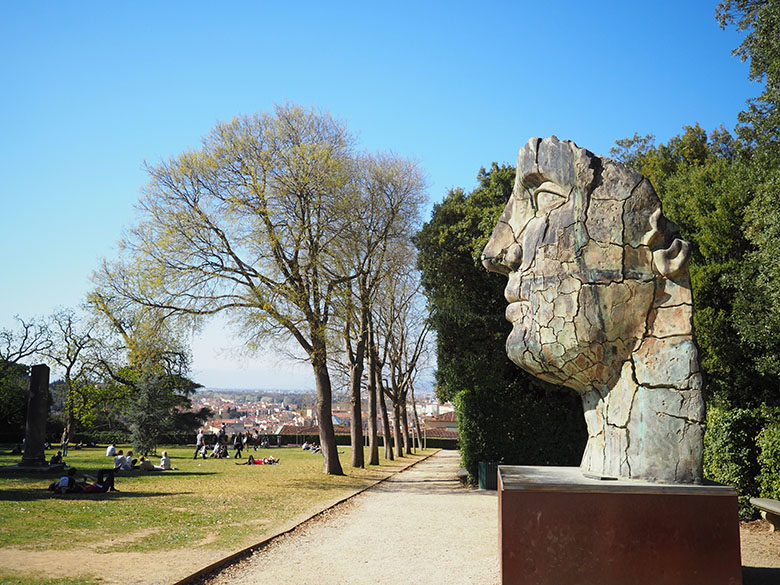 Boboli gardens entrance
There are four entrances to the Boboli Gardens. The main Boboli Gardens entrance is in Piazza Pitti, right next to the entrance to the Pitti Palace museums. The others are located in Via Romana, Porta Romana, and inside Forte Belvedere. All are convenient starting spots for a visit, but I entered from Piazza Pitti and, in my opinion, that's the best entrance to the Boboli Gardens: it's the main one, and you get to walk through the spectacular courtyard built by Bartolomeo Ammannati.
Boboli Gardens hours
The Boboli Gardens hours and opening days are the first things you need to know to plan your visit. The park is open every day of the week, from Monday to Sunday, but beware: it is always closed on the first and last Monday of the month, on January 1, and on Christmas Day (December 25).
On regular opening days the Boboli Gardens open at 8.15 AM, and close at:
4.30 PM in January, February, November, December,
5.30 PM in March and October,
6.30 PM in March, April, May, September, and October,
7.10 PM in June, July, and August
The last access allowed is one hour before closing time.
Finally, the Gardens can be inaccessible in case of severe inclement weather.
Boboli Gardens tickets
Tickets to the Boboli Gardens are not very expensive, which is great if you're spending some time in Florence and want to go more than once. Plus, there's a combined ticket available if you want to see the Pitti Palace Museums too.
Currently, Boboli Gardens tickets cost:
Regular ticket – €6 per person
Combined ticket Pitti Palace + Boboli Gardens – €14 per person
Reduced tickets (available for EU citizens, and citizens from Switzerland, Norway, Liechtenstein, and Uruguay between 18 and 25 years old) €2 per person
Reservation – €3 per person.
You can book online on the Uffizi Gallery Official Website (the Boboli Gardens is managed by the same museum authority that handles the Uffizi). Reservations are not mandatory but you might consider booking in advance in peak tourist season (April – September).
Suggestions for a great Boboli experience
Boboli is a huge park, so don't think you'll see the whole thing and all its attractions in a couple of hours! I suggest you factor in at least half a day, don't schedule to go after doing any other strenuous sightseeing, wear your sneakers, a hat, and sunscreen, and take water and a snack, or picnic lunch with you: it's a monumental garden, so you're not going to find sandwich vendors inside! Also, make sure you get a map, it'll make your visit a lot more enjoyable. You can find one here.
Boboli gardens highlights
If you enter the Boboli Gardens from Piazza Pitti the first remarkable sight you'll see is the amphitheater. It dates back to 1637 and was used over the centuries for actual plays and concerts. In the center, there's an Egyptian obelisk: it's the only one in all of Tuscany! From the amphitheater, climb the monumental double ramp staircase lined by Roman statues. You'll get to the Bacino di Nettuno. i.e. Neptune's Basin, where all the water used for the garden passes through, via an intricate irrigation system. From here I suggest you walk to the Kaffeehause, a rococò-style pavilion covered by a windowed dome, and then stroll down the Viottolone, a marvelous boulevard lined by beautiful cypress trees. The Viottolone runs across what is known as the "Birds' Meadow", and the walkways that you can explore from there are filled with lovely sculptures.
Cant-miss Boboli Gardens sight
There's one must-see sight in the Boboli Gardens and that's the grotto built by Bernardo Buontalenti. Decorated with amazing stalactites and statues, and themed to respect the alchemical style beloved by the Grand Duke, it seems to be populated by living beings, animals, and natural elements. Make sure you stand inside for a minute, it's incredible!
---