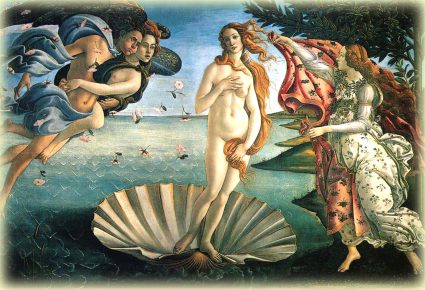 Believe it or not, after living here for nearly a year, I've only now just headed to the Uffizi Gallery, witnessing some of the finest art known around the world. This of course includes the infamous Birth of Venus by Botticelli as well as Michelangelo's The Holy Family, the only painting of his that is on show in Florence.
To begin, as per usual, those who signed up for the tour met in front of the Florencetown office – a simple and consistent meeting point, if I may add. Upon arrival, I was happy to see that we were a sizable tour group, but still small enough that it made you feel like you could have an intimate tour experience with one another.
Not long after, our tour guide, Mario arrived. As he made his way around the tour group with a most friendly and sincere disposition, I observed as he made it a point to introduce himself to each person on the tour and even learn all of our names. "Bravo", I thought to myself. This is definitely a good sign.
Finally, when we are set to go, we commenced our tour just around the corner of the office to observe the Orsanmichele church. "What do you see?" Mario asks us, "Look at these two statues, "Which one looks more natural and which one looks more idealistic"? As Mario prompted the group to give any answer a try, I blurt out, "On the left. He's natural". I have nothing to go on except that the other choice was a statue of Jesus Christ; whom I suppose I unconsciously juxtaposed with the 'ideal' person due to my Catholic upbringing. After some further guessing and assessments, (by the way, my choice was wrong), Mario begins to give us a few more hints. Through an interactive group discussion, we then proceed to navigate the differences between a 'natural' piece (Renaissance) and a more 'idealistic' piece (Middle Ages).
If you're like me and have an ongoing thirst for knowledge, discovering the differences were and are, astounding in all its obviousness and subtlety. From the lines in one's clothing, shading and depth, to facial expressions and body language – it became increasingly distinct as to what made each of these pieces of art so particular to their own time and spectacular in their own right.
Afterward, we continued our way through Piazza della Signoria where we worked our way through a side door of the Uffizi Gallery (no lines, thank goodness)! Once inside, Mario led us to various pieces of art in several rooms – most notable pieces completed by Giotto, Masaccio, Uccello, Masolino and of course Botticelli, Da Vinci, Caravaggio and Michelangelo. The art – being even more beautiful in person than I could have imagined, continues to provoke my interest as we continue what I call our, Discourses on Art class with Mario. Side note: there's actually a fabulous book by Sir Joshua Reynolds you should all read, by the same name.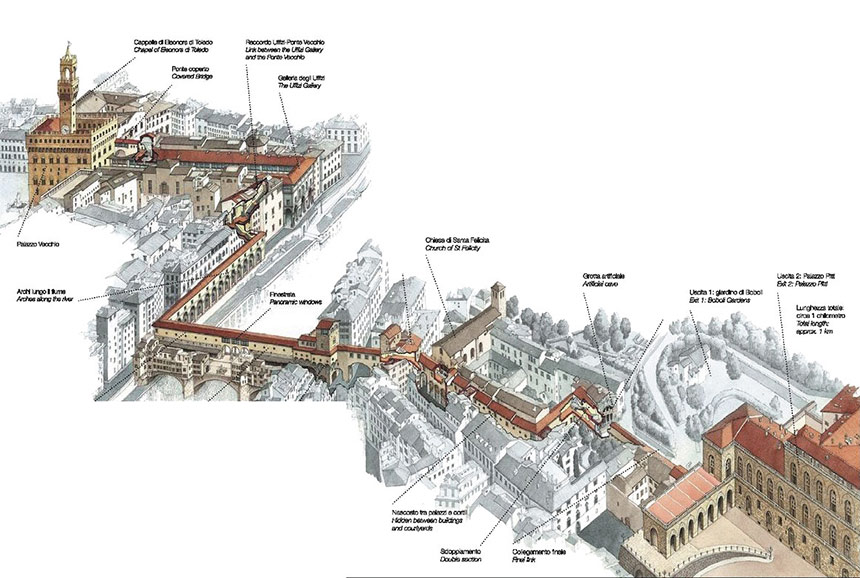 Eventually, after about an informative hour and a half in the gallery, we make our way through an unmarked door and before I know it, we've entered into the ever-exclusive Vasari Corridor. For those of you who don't know, the Vasari Corridor was commissioned by the Medici family and extends between Palazzo Vecchio and the Uffizi Gallery all the way to the other side of the river and ending at Palazzo Pitti.
Immediately upon entering, I notice to the left of me the ruined paintings from the 1993 Mafia bombings, left hanging as a reminder of the devastation. All at once, it strikes inside me with a feeling of sadness and humility. As I gaze straight ahead, there is a gigantic portrait of the Medicis – Cosimo and Anna Luisa to be exact, and I am instantly surprised by how their presence, and particularly that of the princess, has impressed me. I am intriguied, "Sei brava, sei furba"! I want to cry out to her! If you're interested to learn more, another book worth noting regarding the fascinating Medici family is Christopher Hibbert's well-known piece, entitled The House of Medici: Its Rise and Fall.
As the tour continues, we continue down the one kilometre corridor observing a vast private collection, many consistent of the Baroque era. Because it's December, the corridor is quite chilly, but it doesn't seem to prevent any of us from further inquiries and explorations. We are given the opportunity to observe the Church of Santa Felicita from the vantage point of where the Medici Family would have attended mass (think: V.I.P. balcony), but one of my own personal favourite perks was witnessing the city of Florence from what felt like "inside/out". Particularly when walking over the Ponte Vecchio, a bridge I've spent much of time crossing as I make my way in and out of the centre – it was beguiling to imagine what it would have been like for a Medici to walk back and forth through this corridor, unbeknownst, or at least quasi-unbeknownst, to the rest of its city populace.
As the tour came to an end, we exited within the Bobli Gardens and found ourselves standing in front the beautiful Palazzo Pitti. Mario graciously thanks each us for attending, although I am left feeling as though it is him I should thank for his wealth of knowledge and encouragement to discover art for ourselves.
I urge you, if you are to do anything while visiting Florence, Italy – ensure that you take time to check out this tour while in town. Not only will you get a rare experience into learning about art in much more depth – the importance of the Renaissance and what this entailed, but you will also get a glimpse into the life of the most famous noble family to ever exist in Florence, The Medici Family. It truly was a lifetime experience. Grazie, Florencetown.
---