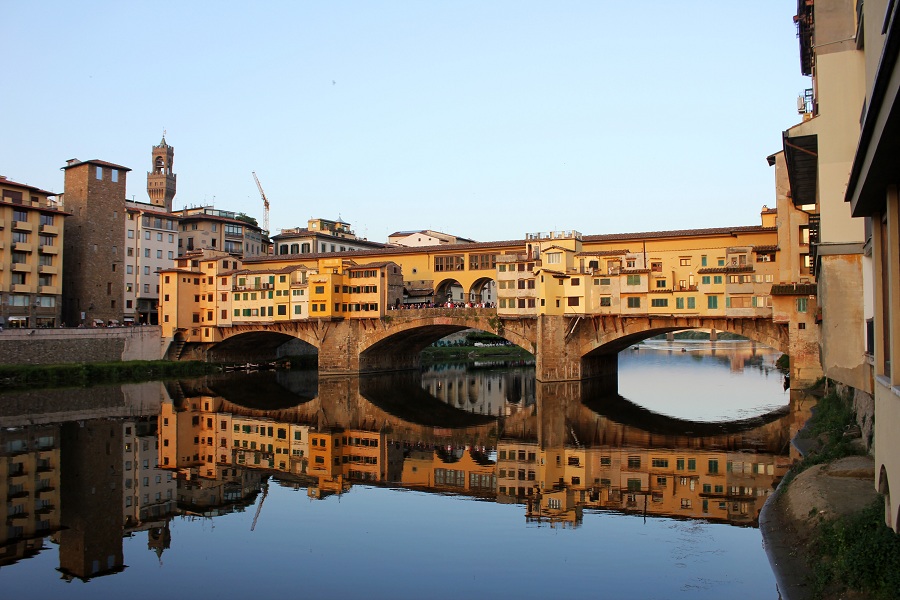 I enjoy this walk because the river is very beautiful and it is much more peaceful than the hustle and bustle within the city center. My favorite part of walking along the river is that I get to enjoy the Ponte Vecchio from all different angles. Sometimes I walk across it, and sometimes I just enjoy it from a distance.
I attend school in Piazza Santo Spirito in the Oltrarno, which means the other side of the Arno River. Between classes, I grab a sandwich at Gusto Panini, which is to the right of Santo Spirito. Gusto Panini is delicious, and they also have a wonderful pizza shop right around the corner (It is called Gusto Pizza, easy to remember!). I usually get prosciutto cotto, which is cooked ham. The sandwiches are large and delicious, perfect for lunch.
When classes are over for the day I slowly make my way back home, window shopping along the way. Florence has many small businesses and beautiful items to buy. I love seeing all the leather bags and jackets Florence is known for, and comparing the different fashions of handmade boots and shoes as well. I am always so tempted to buy these wonderful items, but I try to resist (most of the time!) Florence is great in the fact that there are many quaint little businesses, but also is a center for high end fashion. Although they are out of my price range, I love looking at the styles and upcoming fashions as I walk home.
The end of my typical day in Florence usually means getting a small cup of gelato. My favorite place to stop on my way home is at AMAL in Piazza Gaetano Salvemini. The gelato is very fresh, as they make it right in the shop, and they have wonderful flavors (Try the pistachio if you get a chance!) You can find many gelaterias in Florence, and I have definitely been testing out my different options.
My Florence routine is something I look forward to every day. There is so much to see and do here that I never am bored. If you have an itch to do exactly what I do every day, you would really enjoy the Walk and Talk tour with Florencetown. You will get to know the streets of Florence and better understand the culture and history with an awesome tour guide.
For more experiences, you can also visit townsofitaly.com.
---