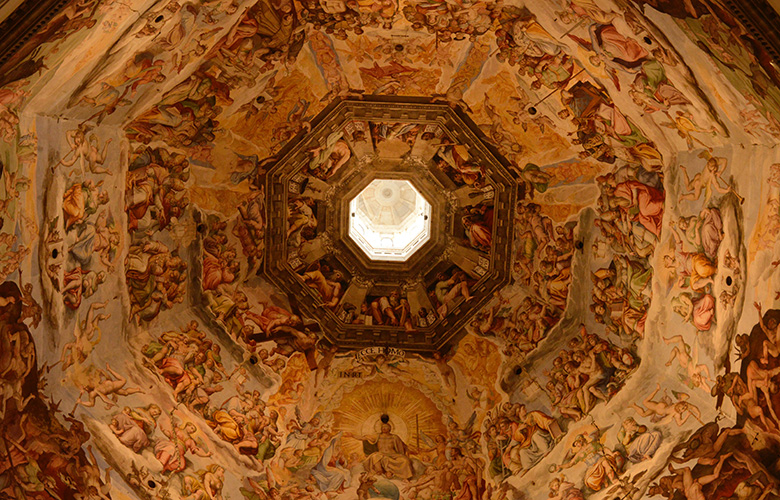 Climbing to the top of the Duomo in Florence is one of the most incredible things I have ever done in my life. I decided to go because I was thrilled by the idea of getting to the top of this majestic and ancient building.
Amazing views and insight into an extraordinary masterpiece of architecture
I was really excited about getting to the top of this mammoth Cathedral and seeing the view: I was told it was breathtaking, and it really was! But I was not prepared for the best thing of all, and that was understanding what an incredible feat the building of the dome on top was.
Filippo Brunelleschi, a genius
Ever heard about Filippo Brunelleschi? He's the architect who ideated and constructed the lovely red-tiled cupola, the dome on top of the Duomo. He was a real genius: he built that graceful "cap" without using any scaffolding, and with no internal structure holding it up.
When he first illustrated his idea to the judges that were choosing who would build the dome, they didn't believe he could do it. They asked to see his designs, but he said no, and instead, to prove his point, set an egg on the table and told them to stand it up straight. They tried, but obviously couldn't, so he took the egg, smashed one end, and stood it up.
The "standing" egg showed how an ovoid with a flat base could actually be placed in a vertical position on top of something else, even without something to hold it up. In fact, that's how the Florence Duomo dome works. Practically, it's made of two distinct domes, placed one within the other, that "sit" on the Cathedral's drum. The inner dome, 2+ meters thick, has a deeper angle and is made of arches held together by ribs. The external one is clad in terracotta tiles, and outlined by white marble ribs. In a nutshell, for non-engineers: there's nothing holding the dome up, it holds itself.
The most fabulous thing about climbing to the top of the Duomo in Florence is that you get to take a close look at the sandstone and marble, and really understand what an amazing idea this architect had, way back in the 15th century, and how he was able to build it.
How many steps up the Duomo in Florence?
One of the things most travelers want to know is how many steps one has to climb to get to the top of the Duomo in Florence. The answer is 463, and very steep and narrow too, especially in the last part. It's a somewhat strenuous climb, but it's definitely worthwhile: aside from gaining insight into the architecture, when you do get to the top you get to see spectacular views of the churches, towers, buildings, and piazzas below!
Who should not climb to the top of the Duomo in Florence
So, all in all, it's an incredibly rewarding experience. This said, not everybody should try it. People who suffer from cardiovascular and respiratory conditions, vertigo, dizziness, or claustrophobia should not climb to the top of the Duomo in Florence. Also, those aged 17 or younger need to be accompanied by an adult. To be on the safe side, check the access rules and limitations on the official Opera del Duomo website.
Duomo Florence opening hours
To climb up to the top of the dome that crowns the Florence Duomo you need to consider the dome's schedule, rather than that of the Cathedral. The Duomo Florence opening hours you need to look at are, generally:
from 8.15 AM to 7.30 PM on weekdays
from 8,15 to 5,15 PM on Saturdays
from 12.45 PM to 5.15 PM on Sundays
However, just like the Duomo itself and the other monuments, Brunelleschi's dome may be closed for special events or official visits (like those of foreign statesmen, for instance). So, to be safe, always check the official website's timetable page.
Accessing Brunelleschi's dome
To access Brunelleschi's dome, and climb to the top of the Duomo in Florence, you have to be escorted and have reservations. This means you can't just buy a ticket and climb up there on your own whenever you like.
So you have 2 options:
Buy a Brunelleschi Pass Ticket on the Opera di Santa Maria del Fiore official website, and thus have a ticket and a reservation and be escorted by an official Duomo guide
Book a tour provided by a licensed tour operator, and thus be led by the tour's dedicated guide.
My advice on tickets and tours
Because reservations are mandatory, you'll want to get your tickets or book your tour in good time. As for myself, I took a shared guided tour operated by a local company called Florencetown. I had a wonderful time, and my guide was friendly and knew a lot. So if you're looking for a well-planned tour to climb to the top of the Duomo in Florence you may want to look into this one.
---