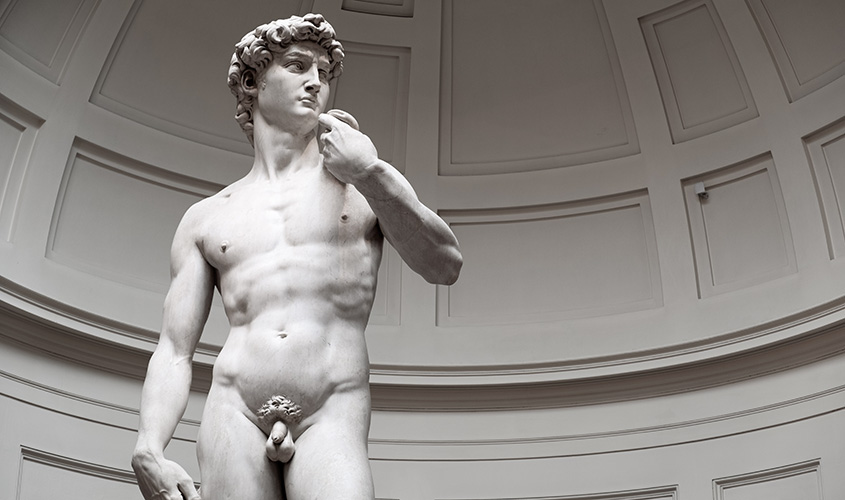 Visiting the Accademia Gallery, Galleria dell'Accademia in Italian, was an unforgettable cultural experience for me, so I strongly suggest you factor in time to see it. This museum is famous worldwide, and this is mainly due to one masterpiece: Michelangelo's David. But you'll find there are many other famous works in the Accademia Gallery. Read on to learn more about the Galleria dell'Accademia's artwork!
Discovering the Accademia Gallery's famous works
If you're curious about what the other Galleria dell'Accademia highlights are, and if you need practical information, including Galleria dell'Accademia opening hours and how to get there, read on!
Galleria dell'Accademia: how to get there
First and foremost, you need to know where the entrance to this extraordinary museum is. Access to Florence's Accademia Gallery is in Via Ricasoli 58/60. It will take you just 1 minute on foot from Piazza San Marco, where most city buses stop, and 3 minutes from the Duomo.
Galleria dell'Accademia opening hours and tickets
The Galleria dell'Accademia is open Tuesday through Sunday, from 8:15 AM to 6:50 PM. The last admission is at 6.20 PM (30 minutes before closing time). The museum is closed every Monday, on Christmas Day (December 25), and on January 1. There's a ticket office located in Via Ricasoli 60, but I strongly recommend you buy your tickets in good time because it's a very sought-after museum. The easiest way to do this is online, on the official Florence Museums website.
Galleria dell'Accademia highlights: the David
The first time I saw Michelangelo's David I gasped. It is so lifelike, and at once so grand, that I could hardly catch my breath. I was on a guided tour, which was great because I had the chance to discover the background of the sculpture, and understand what made it, and makes it, a masterpiece. 5.17 meters tall (i.e. 17 feet), it was, amazingly enough, sculpted from a single block of marble in just a little over 3 years. The most striking thing about the David is how realistic it is: you can see the perfectly carved muscles, and strong arms, and even the expression is truly "human".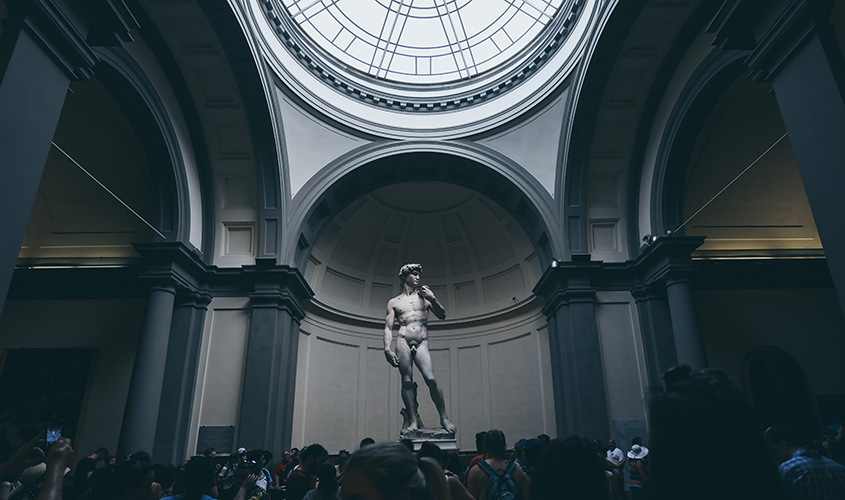 Galleria dell'Accademia highlights: the Prigioni
But Michelangelo's greatness is just as evident in another hall of the Accademia Gallery, adjacent to the one where you'll admire the David. It's called the Hall of the Prigioni (Prisoners or Slaves) and houses four massive unfinished sculptures. These four masterpieces were initially designed for the tomb of Pope Julius II, which was never completed itself, and, art historians say, were probably left incomplete on purpose. Apparently, Michelangelo chose not to finish the sculptures to mirror the Platonic ideal of the internal conflict of human beings that wish to be free of bonds. When you look at the statues, you're bound to feel the "wrestling" of these bodies, "trapped" as they are in the marble.
Galleria dell'Accademia highlights: the plaster cast of Giambologna's "Sabine"
Giambologna's "Rape of the Sabine Women" is one of the most dramatic statues that you can see under the Loggia dei Lanzi, in Piazza della Signoria. Still, the plaster cast used to make it is here, in the Accademia, and it's definitely a sight to see. Dating back to the 16th century and made of unfired clay, it was crafted by the artist himself!
Galleria dell'Accademia artwork
Cant-miss Accademia masterpieces include Michelangelo's Saint Matthew and Palestrina Pietà, as well as the amazing painting collection. The latter comprises spectacular gold ground paintings that date back to the 13th, 14th, and early 15th centuries, Renaissance paintings, late-Gothic masterpieces, and grandiose altarpieces from the 16th and 17th centuries created by some of the greatest artists of all time. I especially recommend you take your time admiring the works by Giotto, Andrea Orcagna, Paolo Uccello, Sandro Botticelli, Domenico Ghirlandaio, and Filippino Lippi.
---