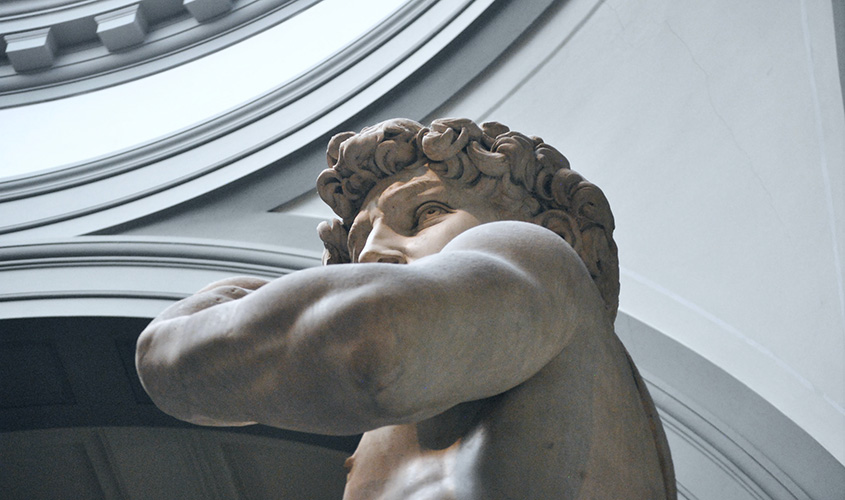 Making the most of one's time in Florence, choosing what sights to see, and especially scheduling museum visits can feel like a real challenge. I know, because although I've been living here for three months now, I had visited the city before, and always felt like I was never going to "be able to see enough". There was one question that haunted me day in and day out, it was "Uffizi or Accademia?" I solved the issue by visiting both, but, if I can be honest, I didn't spend half as much time as I should have in either.
How to have a wonderful time in Florence
If I had to choose now, I'd select either the Uffizi or the Accademia, and make a point of taking my time and seeing at least all the main highlights. Now, the purpose of this blog is to provide fellow travelers with useful information and tips on visiting Florence, and there's one piece of advice that I'd really like to share: be realistic, and don't cram. You'll hardly be able to see all of Florence, including the museums, on your first visit, so I suggest you mostly focus on enjoying your time!
Florence perk: most sights are within walking distance from one another
This said, there are some landmarks and sights, such as the Duomo, Ponte Vecchio, Piazza della Signoria, and Santa Croce, that you will want to see. Luckily, Florence is a wonderfully "compact" city. Or. at least, its main sights and landmarks are all located pretty close to one another. Walking through the main historic center and Oltrarno neighborhood is an experience in itself, and as you stroll you get to see most major monuments.
Too many museums, too little time!
If seeing the main outdoor sights and experiencing the enchanting atmosphere typical of Florence is easy, deciding which of the city's amazing museums to visit – Uffizi, Accademia, Opera del Duomo Museum, Palazzo Vecchio Museum, Bargello, Pitti – is significantly harder. Most tourists' dilemma is between the Uffizi, home to the world's most impressive and extensive collection of Renaissance art, and the Accademia, where Michelangelo's extraordinary David is.
Uffizi or Accademia: how much time should you spend in the Galleria dell'Accademia
If you're undecided between seeing the Uffizi or the Accademia, I suggest you consider two different key elements: time and interest. The Uffizi Gallery covers two floors and includes 45 exhibition halls, so it will take you at least 3 hours to see the main highlights only (you need to factor in time to find your way around and get from one room to another…). The Accademia Gallery is smaller: it, too, is on 2 floors, but it houses 7 halls. So, in 3 hours you can see the whole thing at a comfortable "pace".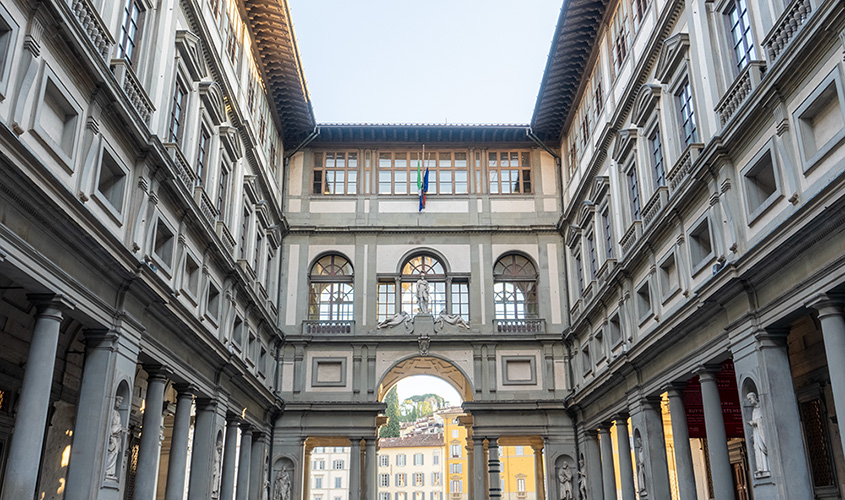 Pick what you really want to see
Interest is the other crucial element: if you've been forever dreaming about seeing the David, and maybe learning more about Michelangelo, choose the Accademia, if you're head over heels for Renaissance painting and want to enjoy a close-up with Leonardo Da Vinci, Giotto, and Botticelli, go to the Uffizi. Whatever you do, do not go to both museums in one day: it'll be too much art and history. If you do want to go to both, schedule your visits for two different days, you'll enjoy it all much more.
Make sure you get reservations
Whether you choose to visit the Uffizi or the Accademia I strongly recommend you purchase your tickets in good advance and get reservations: both museums are very famous, so virtually all those who come to Florence want to see them, so there are unending queues for tickets. Plus, naturally, there is a limit to how many are allowed in at once, and in peak tourist season the time slots available are bound to be sold out well in advance. The extra fee for reservations is only €4.00 per ticket, and it is very much worth it.
What you need to see the David in Florence: tickets, and reservations
Whether you're longing to see the Uffizi Gallery or the Accademia, with the statue of David, you can get tickets online on the official websites.
To see the David in Florence, get tickets here, or by calling +39 055 294883.
Current entrance fees for the Accademia Gallery are:
€12.00 per person (regular ticket)
€2.00 per person for EU citizens between 18 and 25
Free of charge for all those under 18
You can get tickets and reservations to the Uffizi Gallery, and all major Florence Museums, online as well. Check the official website for opening hours, current fees, and to purchase your ticket.
Accademia Gallery skip-the-line tickets
The great thing about having a reservation for the Uffizi or Accademia is that you get "skip-the-line tickets": you won't have to queue with all those that don't have reservations because you'll be given a set time slot for access. But do keep in mind that even if you have a reservation you'll have to go through the mandatory security check and metal detector, so you will probably have to stand in line for a while. This ensures everyone's safety, so we're all glad the museums are strict about it, but in spring and summer it can get hot, so make sure you have water with you, and wear a hat!
Accademia dress code
Finally, I've been asked, by friends and family who visited me here in Florence, whether there's a special dress code for the Accademia, just like there is for churches (in Florence and Italy in general). There is no specific Accademia dress code, you can wear whatever you please.
---