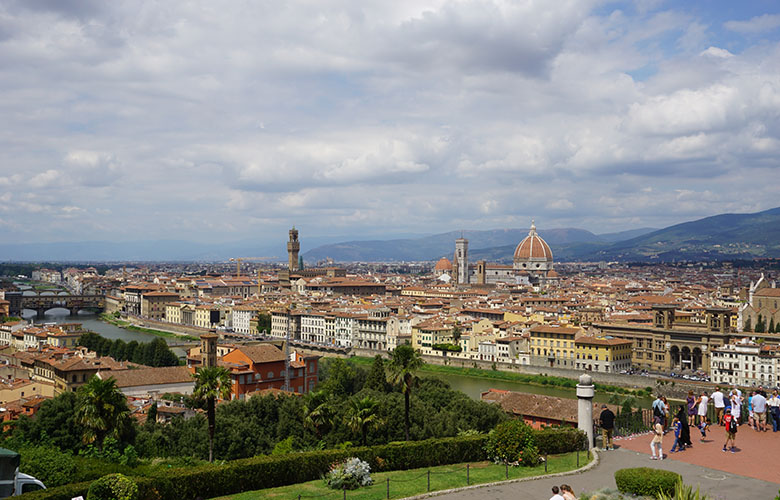 Florence is a traveler's dream come true, crammed with wonderful things to see and admire, and exciting things to learn. But there's one sight, or better still one experience, you absolutely cannot miss, and that is visiting the Piazzale Michelangelo.
Spectacular vistas from above
Dominating the city from a unique position, Piazzale Michelangelo offers truly breathtaking views of Florence's enchanting skyline. From here, you can admire the church domes and towers, and see the stately palaces and Ponte Vecchio reflected by the rolling waters of the Arno river. The vistas are especially marvelous at sunset, when the rosy light paints the river and palaces pink, golden, and orange.
Piazzale Michelangelo tickets
If this is your first time in Florence, you may be wondering where one gets tickets to Piazzale Michelangelo, or if visiting it is very expensive. Well, I have good news for you: you don't need tickets to visit Piazzale Michelangelo! This beautiful terrace-square is part of the city and as such open to the public, and there is no access fee whatsoever.
Piazzale Michelangelo hours
For the same reason, there are no limited visiting hours for Piazzale Michelangelo: the square is open day and night, 24/7, year-round So no concerns about Piazzale Michelangelo hours, you can go whenever you wish!
Facts about Piazzale Michelangelo
Piazzale Michelangelo is a large square located left bank of the Arno river, on the slope that rises just above the Oltrarno neighborhood and leads to the San Miniato Church. It's named after Michelangelo because the architect who designed it, Giuseppe Poggi, dedicated it to the great Renaissance artist, and the square also hosts a copy of the statue of David. There is a grand-looking building opposite the viewpoint terrace that was, originally, supposed to be a museum hosting Michelangelo's works, but this never happened: it is now a relatively fancy restaurant called La Loggia.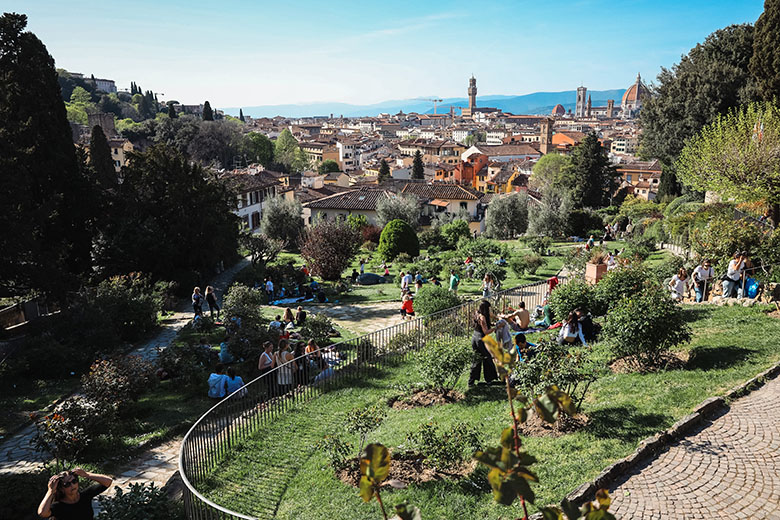 How to get to Piazzale Michelangelo
You can get to Piazzale Michelangelo on foot or by bus. If you're into getting some pleasant exercise, walking is great, but do keep in mind that it's up on top of a hill… so you may want to think about an alternative in July and August. There are several routes you can follow to get up to the Piazzale Michelangelo on foot, but in my opinion, the most scenic itinerary is the one that starts from the San Niccolò neighborhood: just go to Piazza Poggi and walk up "Le Rampe", i.e. the "ramps", or up the tree-shaded stairs. If it's too hot, or you don't feel like walking, you can take the n.12 or n.13 bus from the city center's main stops (Piazza San Marco is generally the most convenient).
Useful information about Piazzale Michelangelo
There are drink and snack vendors in Piazzale Michelangelo, and several bars and restaurants very close by, so you're sure to find water, drinks, and even a good glass of Chianti, a sandwich, or a meal when you're up there. There are public bathrooms open from 10 AM to 7 PM in Viale Galileo and others in Via del Monte alle Croci (both 3 to 4 minutes from the viewpoint),
Surroundings of Piazzale Michelangelo: two lovely gardens and an evocative church
Piazzale Michelangelo is also virtually surrounded by beautiful gardens and near a spectacular church. The two gardens that rise to the sides of Piazzale Michelangelo are called Giardino delle Rose, i.e. Rose Garden, and Giardino dell'Iris, Iris Garden. Both gardens are open to the public but, naturally, in season only, so make sure you check opening hours and visiting hours on the official websites before you go. If you follow the main road (Viale Galilei) and walk uphill from Piazzale Michelangelo you'll get to the church of San Miniato al Monte, a splendid monumental Romanesque church. Inside, it hosts remarkable artwork, including terracotta decorations by Della Robbia and frescoes by Taddeo Gaddi. From the outside, it offers yet more spectacular views of Florence's historic center.
---