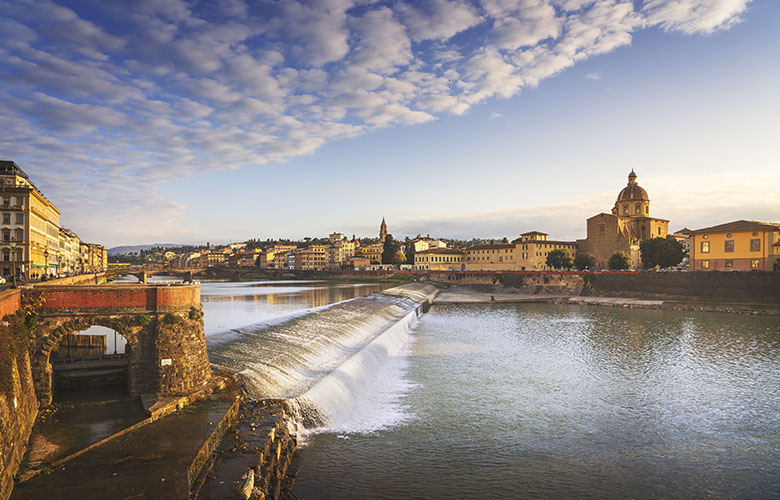 What's picturesque, colorful, vibrant, hip, and chock-full of traditional heritage? Why Oltrarno of course! Florence's most lively and evocative area is a place like no other, a vivid and zesty "town within the town".
What makes Oltrarno unique
You're bound to fall in love with Oltrarno: here ancient marble-paved churches, lyrical chapels, and period workshops where artisans use Renaissance techniques to mold glass, gilded wood, and chisel silver, rise alongside cool contemporary cafés, trendy clubs, posh restaurants, up-and-coming boutiques, and charming old-world trattorias that serve hearty typical fare.
Where Oltrarno is located in Florence
But, first things first: let's see where Oltrarno is exactly, which, by the way, will also explain what the word "Oltrarno" means. Oltrarno comes from "oltre Arno", that is to say, "on the other side of the Arno river". In fact, it's that stretch of historical Florence that rises on the other side of the river compared to the Duomo, Piazza della Signoria, and all that is known as the "main historic center". Another word Florentines use to define this area is "Diladdarno", which means exactly the same thing: "on the other side of the Arno".
Oltrarno neighborhoods
Oltrarno comprises a variety of significant landmarks and several of Florence's most enchanting historical neighborhoods and quintessentially Florentine streets. San Frediano and Santo Spirito, where Piazza Santo Spirito and the Santo Spirito church are located, are the most renowned and attractive neighborhoods, Borgo San Jacopo is definitely the most charming street in Oltrarno.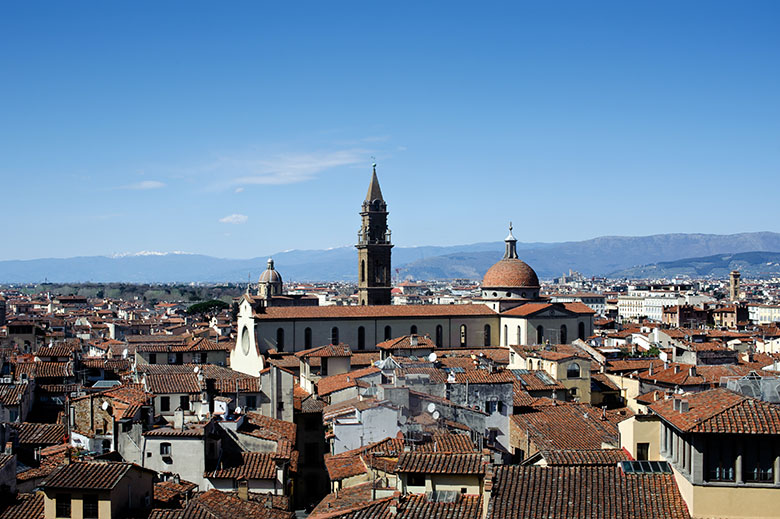 Piazza Santo Spirito
Piazza Santo Spirito is one of Oltrarno's most fascinating squares. Dating back to the 13th century, it was built to host the crowds of churchgoers who attended services in the church, which at the time was owned by the order of Saint Augustine. The square is dominated by the grand church designed by Brunelleschi, all the more fascinating because of its blank facade, the square hosts regular open-air markets, and is flanked by restaurants, trattorias, clubs, and cafés.
When to visit Piazza Santo Spirito
There's always a good reason to stroll down to Piazza Santo Spirito! If you go in the morning, you can have a frothy cappuccino and cornetto at one of the bars and then buy fresh local produce from the vendors at the market. If you procrastinate, you can go at lunchtime and have a lovely bowl of pasta in one of the quaint trattorias. And if you're looking for a fun night out this is the place to be: there are pubs, enoteche, bars, and clubs in the square and surrounding streets.
Santo Spirito church
As concerns sightseeing in Oltrarno, you're spoiled for choice. The Church of Santo Spirito is spectacular and houses works of art by masters such as Filippino Lippi, Andrea Sansovino, Alessandro Allori, Bernardino Poccetti, Michelangelo, who crafted the stunning wooden crucifix, and Perugino, who designed the amazing stained-glass window. One of the fabulous things about this church is that there's a lot of natural light inside, so you can walk through the naves and really appreciate the artwork.
Other must-see Oltrarno highlights
There are other sights in Oltrarno that I strongly suggest you see because they're a little off-the-beaten-track and offer real insight into Florence and its history. Two are gardens, hidden behind monumental city walls, but, luckily, open to the public: the Torrigiani Gardens and the Corsi Gardens (also called Giardini di Annalena). The other is another square, Piazza del Carmine, and the striking Chapels that it houses, the Cappella Brancacci. Finally, don't miss walking down Via Maggio, lined by stupefying antique shops, and over the beautiful Ponte a Santa Trinita.
---