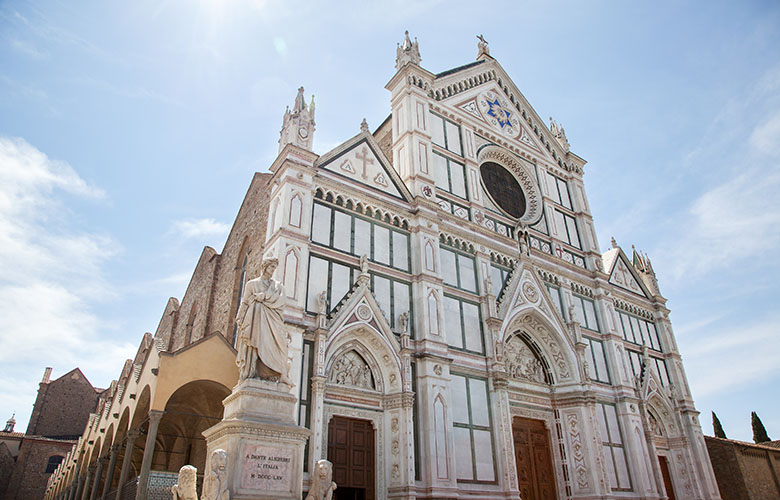 Piazza Santa Croce in Florence is one of the most beautiful places I've ever seen. Iconically Italian, it's the right place to spend some time soaking up the sun, people-watching, enjoying the atmosphere, and gazing at the spectacular Church.
Church of Santa Croce in Florence: facts and figures
The Church of Santa Croce we admire today is the largest Franciscan church in the world. It was built over 91 years, between 1294 and 1385, to replace two earlier constructions, and owes its name, literally Holy Cross, to a splinter, allegedly from the actual Holy Cross, given to the church by the French King Louis IX. After building the current church, the clergy and nobility of Florence decided to clear the space in front of it so people could gather before and after religious functions. And that's how the square itself came to be.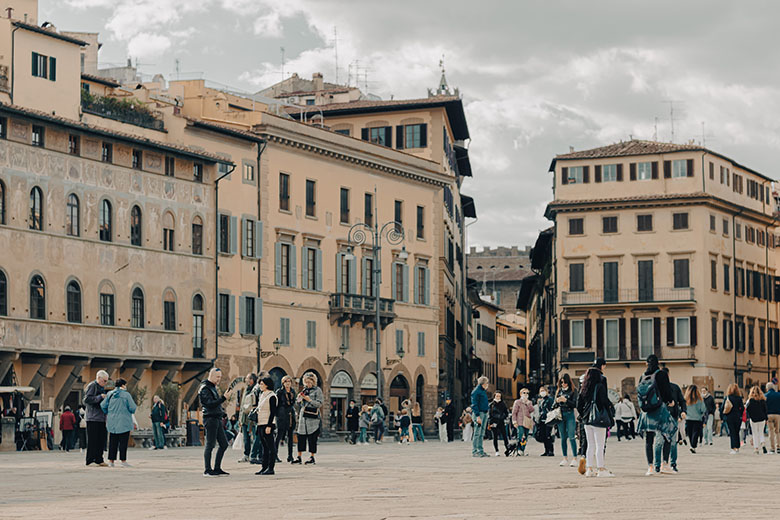 Santa Croce burials and highlights
Aside from being exceptionally beautiful from the outside, the church of Santa Croce stands apart for its burials and incredible artwork. In fact, it houses the tombs of illustrious Italians, that is to say, famous artists, scientists, writers, and poets. The most important Santa Croce burials include the tombs of Michelangelo, Galileo, Machiavelli, Ghiberti, Enrico Fermi, Ugo Foscolo, Marconi, Luigi Cherubini, Leon Battista Alberti, Vittorio Alfieri, and Rossini. Apart from seeing the tombs, make sure you admire the most important highlights: the chapels to the right of the altar frescoed by the great Giotto, the spectacular glazed terracotta bust by della Robbia, and the magnificent painted wooden cross created by Cimabue.
Visiting the Church of Santa Croce in Florence: opening hours
The Church of Santa Croce is open for visits from 9.30 AM to 5.30 PM from Monday to Saturday, and from 12.45 PM to 5.45 PM on Sundays and religious holidays including the Epiphany (6 January), Assumption Day (15 August), All Saints' Day (1 November), and Immaculate Conception (8 December).
On Easter Day, the Feast of St. Anthony of Padua (13 June), and the Feast of St. Francis of Assisi (4 October) it is open to the public from 2 PM to 5.30 PM.
The last admission is at 5.00 PM.
The Church is closed on New Year's Day (1 January) and Boxing Day (26 December).
Tickets for the Church of Santa Croce in Florence
You don't need a ticket to access Santa Croce to attend mass or to worship, but, because it is a monumental church, you do need a ticket to visit it and see the artistic highlights and historic tombs. You can buy tickets online, here, with an extra booking fee of €1,00 per person, or onsite at the ticket office. I strongly recommend you get your tickets in advance because, in peak tourist season, there's bound to be a long line.
Current fees to access the Church of Santa Croce
Full price – €8 per person
Reduced price (teens aged 12–17, university students, school groups up to 30 people including guide, parties of over 15 people) – €6 per person
Free of charge – children under 18 accompanied by parents paying the full fee, all babies and children younger than 11 years old, people with disabilities and their caregivers, Firenze card holders, licensed tour guides, accredited journalists
You can rent an audio guide for €4, the languages available are Italian, English, French, Spanish, and German.
Dress code for Santa Croce
When you're on your way to Santa Croce keep in mind that you'll be entering a church, so you will have to comply with the dress code: knees and shoulders are to be covered, and no flimsy/see-through attire is allowed. So: no shorts, no minis, no tank tops, no sleeveless dresses, and no bare stomachs.
---