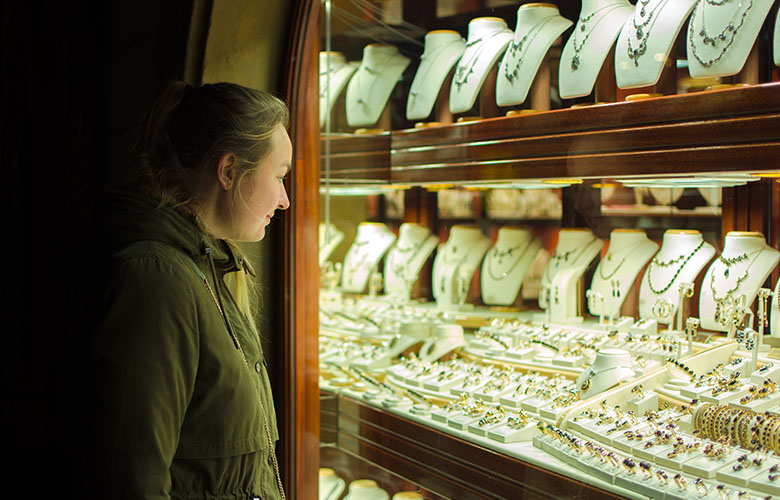 Whatever the season, time of day, and the number of tourists around, I'll never grow tired of visiting the Ponte Vecchio. Aside from offering incredible views of the river, palaces, and other bridges, the Ponte Vecchio has a timeless charm and poetic atmosphere that no cold wind, crowd, or heat wave can dampen.
Just strolling over the bridge makes you feel like you're in another era, perhaps the Renaissance, or the 19th century, when elegant lords and ladies belonging to Florence's noble and powerful families used to saunter across, clad in rich velvets and flaunting spectacular diamonds…
The Ponte Vecchio shops
The glistening shops on the Ponte Vecchio play a leading role in preserving this ancient bridge's fascination. Ever since 1594, when the Grand Duke ruled the "simple" food and drink vendors off the bridge, the Ponte Vecchio has hosted silversmiths, goldsmiths, and jewelry shops. Today it is renowned worldwide as the "jewelers' bridge", and many of the shops that you can still visit boast a centuries-old tradition in the art of handcrafting silver, gold, and precious stones.
Silversmiths on Ponte Vecchio
Ponte Vecchio's shops include several historic artisan stores specializing in artisan-crafted silver. The objects for sale, including jewels, silverware, and house decor, are rooted in tradition and often hand-chiseled. What makes them even more special is that each tells the story of time-honored technical skills handed down from one generation to another.
A treasure chest fit for a queen
Tuscany and Florence have always been legendary havens where kings and queens, and later VIPs and movie stars, would come to purchase fine textiles, clothes and accessories, leather goods, and, last but by no means least, the spectacular jewels and silver objects crafted by the Ponte Vecchio's jewelers and goldsmiths. It comes as no surprise that several Ponte Vecchio shops specialize in selling antique, or vintage, collectible jewelry fit for a queen.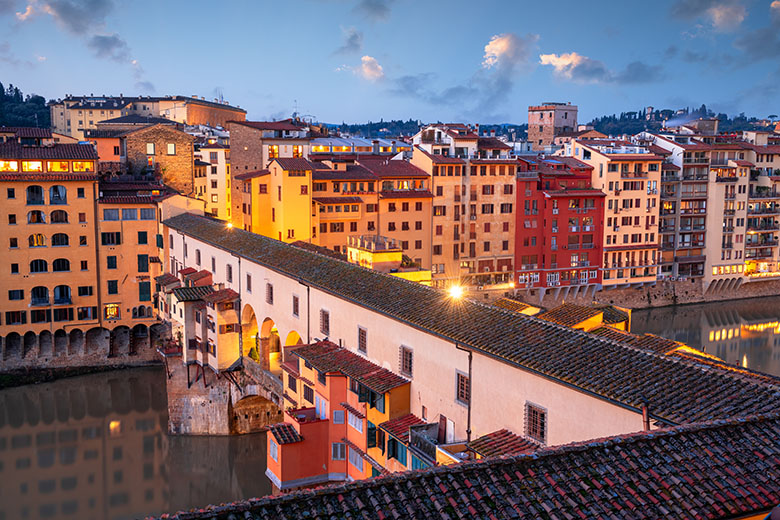 Best jewelry shops on Ponte Vecchio
All Ponte Vecchio shops are fascinating and offer an amazing choice, but the best jewelry shops on Ponte Vecchio are those that carry on the legacy of the traditional local goldsmith tradition. These definitely include the following:
Fratelli Piccini, a family-owned and lovingly managed fine jewelry atelier specialized in creating unique handcrafted and custom-made pieces.
Dante Cardini, a charming traditional-style jewel boutique that offers a superb selection of handmade jewelry ever since 1888.
Gioielleria L. Vettori, also known as Maison L. Vettori, again family-owned and operated, which dates back to 1937, and also provides unique tailor-made jewels on request.
---