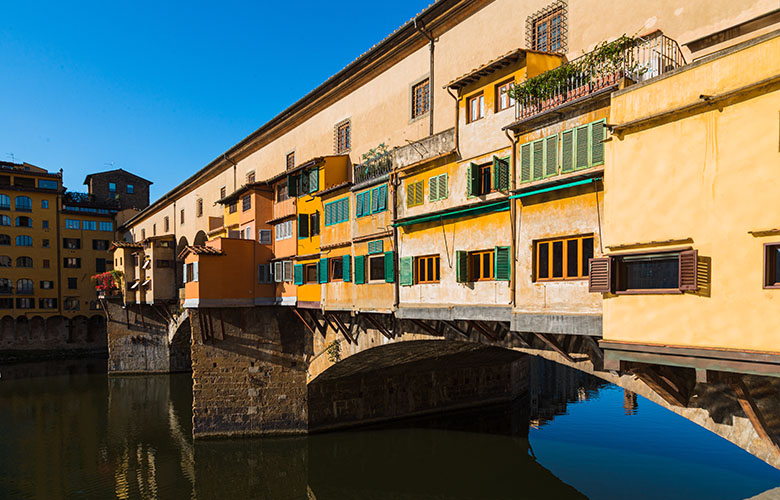 It's beautiful, and picturesque, and offers great views of the Arno river and lovely palaces that line either side of it. Follow me! I'll take you straight to discover the story and facts about Ponte Vecchio, the most famous bridge in Italy!
Ponte Vecchio, the most famous Italian bridge
Everyone who comes to Florence wants to go to the Ponte Vecchio, walk along it looking at the lovely jewelry shop windows, take pictures of the buildings and the view, and possibly see the sunset from there. But hardly anyone stops to think about what an incredible architectural achievement it was to build a bridge like this… especially in the Middle Ages!
Ponte Vecchio facts
The Ponte Vecchio was built by a Florentine architect-engineer called Taddeo Gaddi way back in 1345 and is the first segmental arch bridge in the Western world. By building an arch bridge, instead of a regular one, Gaddi allowed for easier river traffic below, and fewer problems in case of heavy water flow. Plus, the two-story buildings that line the bridge, and its centuries-old history demonstrate that arch bridges are particularly resilient!
Ponte Vecchio tickets
The Ponte Vecchio is such a fascinating and spectacular landmark that many travelers wonder if they need tickets to access the bridge or walk across. No worries, you don't need a ticket to cross the Ponte Vecchio, and you can spend as much time there as you wish.
Ponte Vecchio hours
Ponte Vecchio is not a museum, nor an off-limits landmark in any way. It's just a particularly amazing part of Florence's city center, and as such, it can be enjoyed, crossed, "lived" and experienced, as and when one wishes regardless of the day of the week or time of the day. This is true for Florentines and tourists alike, so don't worry about Ponte Vecchio opening hours: it's always open!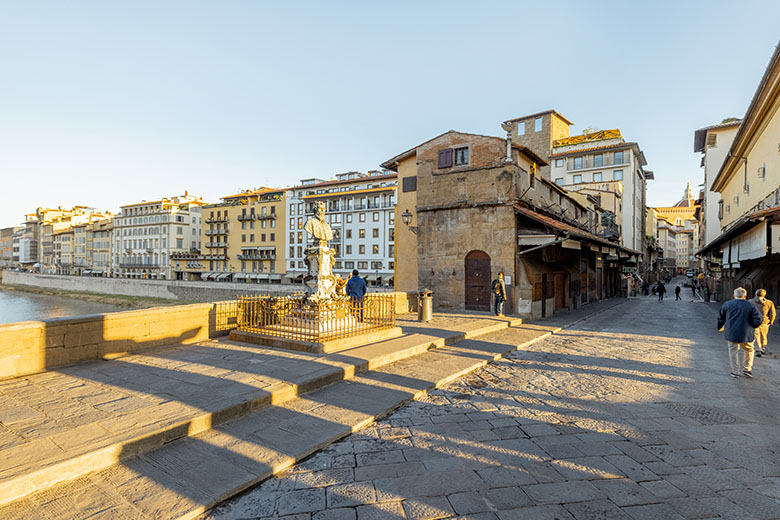 Ponte Vecchio love locks
Couples who are sharing a holiday in Florence love to stroll on this ancient, romantic bridge, kissing and gazing at the beautiful view. And so it is that every year the bridge's period buildings witness hundreds of wedding proposals and that the Ponte Vecchio has its own collection of love locks, just like Rialto Bridge in Venice and the Pont des Artes in Paris. But beware, it is now forbidden because it can damage the bridge, so all you can really do is go look at the ones that are there already!
---