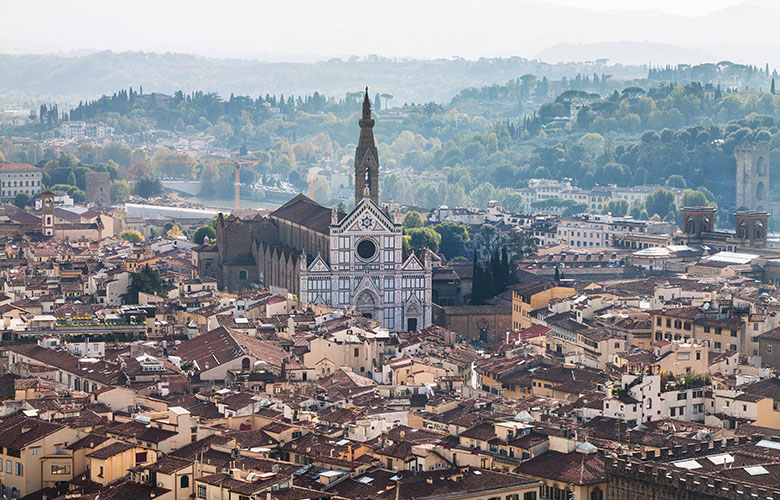 From a foreigner's viewpoint, all of Florence's neighborhoods and areas are charming, rich in history, and filled with fascinating sights to see. Each area of Florence has its unique style, distinctive ambiance, and architecture, so the best way to discover the city is by walking everywhere and taking your time! This said, there's one area I really love, and that's the Santa Croce neighborhood in Florence.
Why I love the Santa Croce neighborhood
I'm not sure why Santa Croce has such a special place in my heart. It may be those tiny, winding alleys, with their cobblestones, ancient brickwork walls, and odd little shops. Or the vibrant voices of the locals in the cafés, trattorias, and leather-goods shops. Or perhaps a blend of all these and the wonderful square, Piazza Santa Croce in Florence.
Piazza Santa Croce in Florence
Large, airy, and sun-kissed virtually from dawn to dusk, Piazza Santa Croce houses a marvelous church, the Basilica di Santa Croce. The square is surrounded by charming historic buildings and has comfortable stone benches where you can sit, relax, and admire the spectacular basilica and ancient palazzi. There are several cafés and restaurants too, most of which with tables outside, so you can enjoy a leisurely sandwich or cappuccino while you immerse yourself in the history and hustle and bustle of this lovely square. I can spend a whole day there, and never get tired of it!
History of Piazza Santa Croce in Florence
The history of the square and church of Santa Croce in Florence, and their role in the life of Florence, are fascinating. Incredibly enough, the area where the square and church rise today was once an island encircled by two branches of the Arno river. That's why the Franciscan monks who came to Florence in the early Middle Ages chose this area outside the city walls to build their church: it was useless marshland, and there was a lot of building space. As the legend goes, the first Franciscans who arrived here in 1209 were actually companions of St. Francis himself!
Santa Croce in Florence, events
Needless to say, such a large, spacious piazza soon became one of the city's most beloved meeting places. Starting in the 14th century, Piazza Santa Croce in Florence was used for a variety of "get-togethers" including open-air markets, horseback tournaments, and jousts, like the famous one held in 1469 to celebrate Lorenzo the Magnificent's engagement to Clarice Orsini. Today, Piazza Santa Croce still plays a leading role in Florence's life hosting city festivals, concerts, and seasonal events. The most renowned events held in Santa Croce in Florence are the European Christmas market, traditionally held for a couple of weeks before Christmas, and the famous Calcio Storico (historic football).
Santa Croce in Florence, events: the Calcio Storico
Florence's Calcio Storico is a traditional game that dates back to the 16th century and is still played today. It is a combination of soccer, rugby, and world wrestling, virtually rule-less and astoundingly violent. The teams that compete belong to each of Florence's four historic districts, and the final game is always held on June 24th, which is Florence's Patron Saint's Day, Saint John the Baptist, and preceded by a historical parade in costume.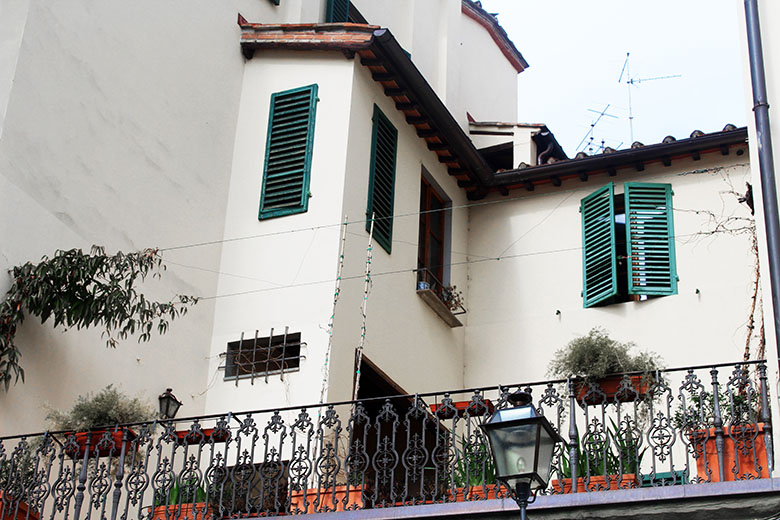 What to see in Santa Croce in Florence
The first thing I suggest you do in the Santa Croce neighborhood in Florence is… get lost! Yes, I mean it! The best way is to walk to the square, put your map away, and start walking in either of the little streets that set off from there. I promise you'll have a lot of fun. Once you've found your way back, there are 4 fabulous things I suggest you see/do in the area
Top 4 things to see and do in the Santa Croce neighborhood
Visit the Scuola del Cuoio, i.e. the "Florence Leather School", an amazing place where you can learn about leather craftsmanship and shop for lovely accessories. It's located right inside the church's monastery, in a reserved area with a cloister. To get there walk up the street to the left of the Church (facing it). Once there, you can shop, take a guided tour, or just wander around and look. It's fabulous!
Stroll through the Sant'Ambrogio Grocery Market (morning, Monday through Saturday only). Join the locals for some fresh produce shopping! The Sant'Ambrogio market is a great place to get an authentic taste of the local lifestyle. You can even have lunch inside, at the diner.
Visit the Church of Santa Croce. Rich in history and art, it's certainly a site to see. Learn all about visiting Santa Croce here.
Have ice cream at Vivoli's. Vivoli is Florence's best and most famous ice cream shop and a veritable landmark. It's very close to the square, in one of the windy alleys behind Via Verdi and the Teatro Verdi.
---