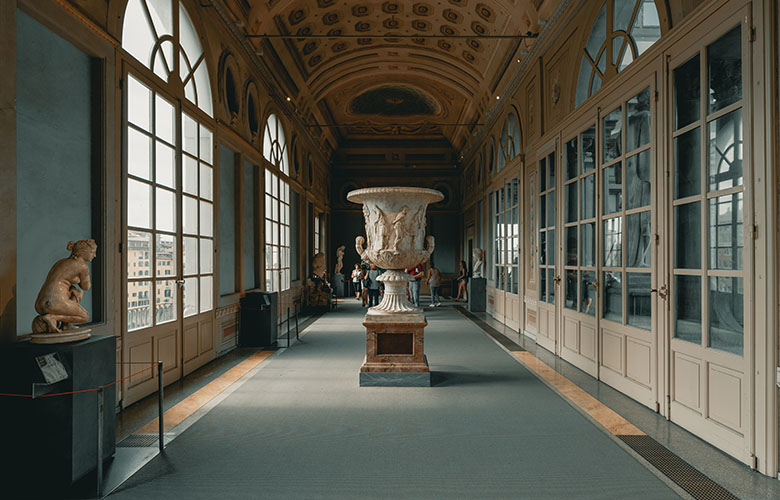 The Uffizi Gallery, Galleria degli Uffizi in Italian, is an extraordinary museum located right by Piazza della Signoria in the heart of Florence's historic city center. Virtually everyone, or at least all those who visit Florence, has heard about it and knows that the Uffizi's highlights include some of the world's most remarkable and important works of art. In fact, this museum houses one of the world's largest and most exceptional collections of paintings and sculptures, and especially an amazing array of priceless Renaissance artworks.
Uffizi Gallery artworks
It's an astounding art display that covers an amazing range of years and styles. There are sculptures and paintings that date back to all the most preeminent periods, from the Middle Ages to the modern era. But what makes the Uffizi stand out among all museums, in Italy and abroad, is its collection of Renaissance art: incredibly extensive, it showcases the finest, and most breathtaking, masterpieces created by the greatest painters and sculptors of all time. If you're in Florence the Uffizi Gallery is definitely worth visiting: aside from providing great insight into Renaissance art, and the city's history, this museum is a real treasure chest of sheer, invaluable, beauty. What I mean is that seeing the Uffizi highlights will change your outlook on life and your perception of perfection and elegance. It certainly changed mine.
The Uffizi Gallery building
The building that houses the Uffizi Gallery is in itself impressive. It rises between Florence's town hall, Palazzo Vecchio, and the Arno river, and was designed and built by the architect-artist-writer Giorgio Vasari, who also designed and created the amazing Vasari Corridor.So that's how Piazzale Michelangelo came to be, and why we can enjoy it today!
Is it possible to visit the Vasari Corridor?
Unfortunately not, or at least not yet, but it's due to re-open real soon. I was looking for information to visit it myself and found a really interesting and detailed website dedicated to the Vasari Corridor. It has all the relevant information, as well as the history. Check it out if you want to know more:
Uffizi Gallery tickets
So how does one get about to visit the Uffizi Gallery? First and foremost, you need to buy your Uffizi Gallery ticket, and I strongly recommend you get a reservation too: this museum is famous worldwide so there are bound to be very long queues, especially in peak tourist season. As of today, Uffizi gallery tickets cost:
regular ticket €12 per person
reduced ticket €2 per person (you can see who is eligible for the reduced ticket here)
Reservations are an additional €4 per ticket. You can buy your tickets and get reservations online by visiting the official Uffizi Gallery booking service: instructions are in English and the system will show you through the process.
Uffizi Gallery tickets: booking by phone
Alternatively, you can book by phone: call +39 055294883 between 8.30 AM and 6.30 PM, from Monday to Friday, and from 8.30 AM to 12.30 PM on Saturdays. Operators speak good English. The phone booking office is closed on Sundays and public holidays. You can also buy your tickets at a museum ticket office (there's one at the Uffizi, one at the Pitti Palace, one at the Bargello, etc.), but I would recommend booking and purchasing online or by phone: it's much less of a hassle.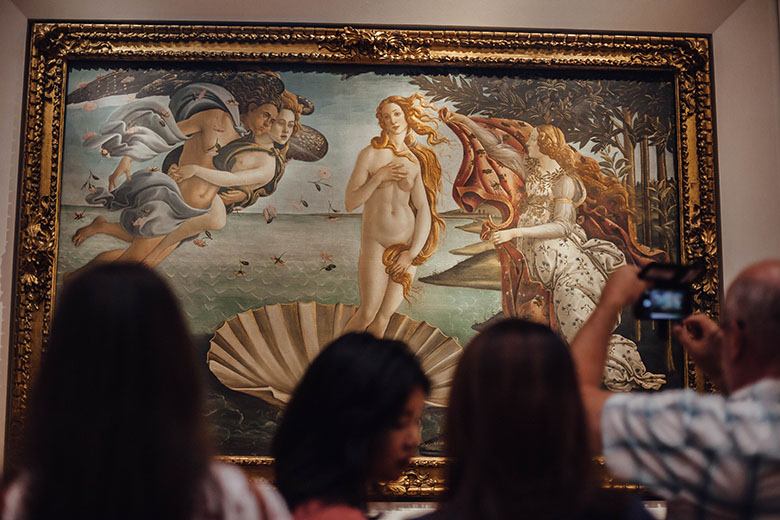 Uffizi opening hours
The Uffizi Gallery is currently open Tuesday through Sunday, from 8.15 AM to 6.30 PM
It is closed on Mondays, New Year's Day (January 1), and Christmas Day (December 25)
To plan your visit properly, keep in mind that the ticket office closes at 5.30 PM and that at 6.30 you will promptly be invited to leave the premises.
How to make the most of your visit to the Uffizi Gallery
How much time should one spend at the Uffizi Gallery? That's a question I've been asked tons of times, and actually, there's no set answer. It all depends on how much you know, or want to learn, about art. One thing you should keep in mind, however, is that it is a very big museum! This said, I'd suggest you factor in at least 3 hours, but don't expect to see the whole thing: focus on the highlights, that is to say, the Uffizi Gallery's most famous paintings.
Uffizi highlights
On your first visit to the Uffizi I suggest you make a point of seeing:
Birth of Venus by Sandro Botticelli
Spring by Sandro Botticelli
Annunciation by Leonardo Da Vinci
Medusa by Caravaggio
Bacchus by Caravaggio
Doni Tondo by Michelangelo
Madonna with Child and the Young Saint John by Pontormo
---