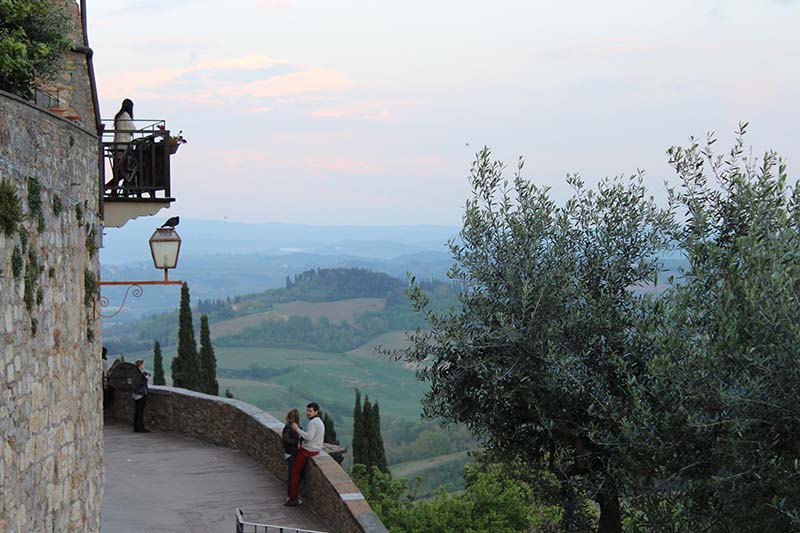 I arrived at the Florencetown meeting point where I was greeted by Eliseo, on of the Florencetown driver (see our video "Staff Photo Shoot – Backstage"), and three lovely women from the United States, a mother and her two daughters. Together we departed for the Siena and San Gimignano by night tour. Arriving in Siena we were greeting by Benedetta, the guide that would show us the beautiful city of Siena. Walking around the city, Benedetta explained the enriching history of this ancient city and its unique 17 "contradas" or districts.  Although it wasn't my first time visiting Siena, being able to see it again allowed me to learn more about the interesting history and I was able to admire its beauty all over again. Benedetta was very enthusiastic and engaging; she was able to answer all of our curiosities. The tour ended at the medieval Piazza del Campo, famous for its Palio horse races done twice in the summer. There we had a tasting of typical Siena deserts, which were delicious! This concluded our visit to Siena and we departed for the ancient city of San Gimignano.
In San Gimignano we had an hour of free time to explore the small city. I spent my time enjoying the view of the Tuscan Countryside, an unforgettable site. The view from San Gimignano is spectacular, especially at sunset! The rest of my time I spent sitting down in one of the squares admiring the original medieval city towers, while enjoying a delicious gelato, one of the best I had ever had. San Gimignano is a tranquil city and I was captivated by its tremendous beauty and peaceful atmosphere.
We departed from San Gimignano and arrived at the Tenuta Torciano Winery. At the winery we tried 9 different wines starting from white wine, to red wine and ending in desert wine, if you are intersted on Wine check also . The wine was accompanied by dinner which consisted of three courses. The wine was absolutely exquisite! Personally, I favored the white wine which was very soft and sweet. The wine expert commented that wine is like people, many different kinds of personalities or distinctions, unique in their own way and everyone's preference differs depending on the person. This was quite true as each of us had our own opinion about each wine. The dinner was delightful and we all enjoyed ourselves especially because the wine expert was very outgoing and humorous. This wine tasting concluded our tour and we departed for Florence.
The tour to Siena and San Gimignano was truly marvelous. These ancient cities have an enriching history and are incredibly beautiful. I would highly recommend this tour for anyone who enjoys relaxation, stunning views and delicious wine!
---