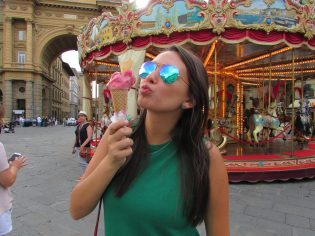 Having been in Florence for about two months now, gelato is something I have become very passionate about. Many people who haven't tried the dessert would argue that it is the same thing as ice cream. Let me tell you, gelato is way, way better. Of course there are several gelateries on every corner in the city, but where do you find the authentic ones? Because trust me, it makes a difference if the gelato is authentically Italian or made for quick sales. I don't discriminate, especially when it comes to gelato, but here are my top 3 gelateries that I will walk those extra couple blocks for.
Gelato Santa Trinita
This one is by far my absolute favorite. Located in Frescobaldi Palace on the corner of the Ponte Santa Trinita, this gelato is perfect to pick up before sitting on the bridge to enjoy the view of the Ponte Vechhio. They have several different flavors to choose from and most of them are pretty rare to find anywhere else. You can also mix and match if you chose to! My personal favorite is the cheesecake in a small cone, its delicious and big enough to get me through until dinner!
Gelateria Edoardo
Edoardo's is located right in the corner of the Duomo, towards the museum, but you could probably find it just by the line of people waiting to get in. I promise the wait is worth it! They have several options of flavors and a few that are even organic. The best part about this place is the cones. They hand make the waffle cones right there in the store and there is no possible way to resist the crispiness of them!
Amorino Gelateria
The gelato here is amazing, thick and creamy just like gelato should be! However, I was more impressed that they sold different flavors of macaroons and would even top off your gelato with the macaroon of your choice! They also offer waffles, crepes, and, in the summertime, smoothies! Amorino even has a nice little seating area in the back with a couch so you can comfortably enjoy your gelato! You can find this gelateria on Via del Corso, just off of Via dei Calzaiuoli.
However, if you're visiting Florence and would like to learn how to make your own delicious gelato, you can take the Pizza & Gelato Making Cooking Class with Florencetown!
Yssa McKaig
---