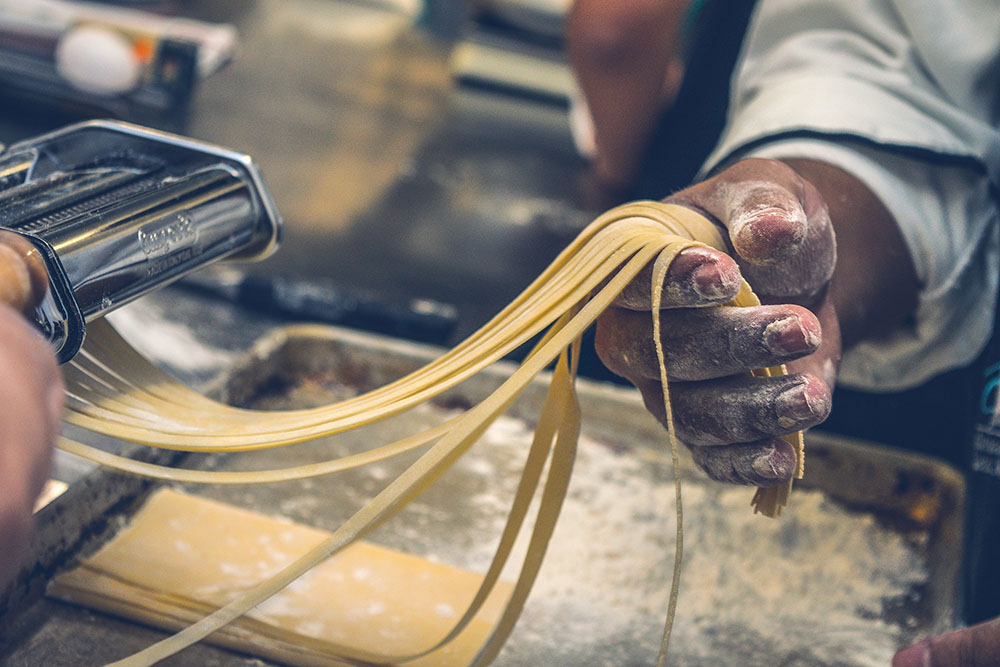 "Life is a combination of magic and pasta." – Federico Fellini
Ready, set, mangia! Well, not until you get the full Florentine experience of just what goes into the entire cooking process…
A cooking class with Chef Giovanni, executive chef of the Food & Wine Academy of Florence, is certainly of one the most highly sought after must-do's in Florence. My mouth was already savoring the taste of what was yet to come, and I wasn't even entirely sure what we'd be making. Did it matter? Definitely not. If it's Italian, it's perfetto.
A group of us gathered in the rain outside the Florencetown office and we were greeted by a most pleasant guide named Davide. If I could read the minds of the others, I'm sure they were all dreaming of pasta even at the early hour of ten o'clock. First stop as a group – Il Mercato Centrale. Firenze's fresh food market that dominates the neighborhood it resides in, with smells of fresh fish and succulent salami. Heaven, in other words. We stopped at one of the first inter-market shops called Perini, where Sonya gave us an exquisite tasting of everything from aged balsamic vinegar of Modena to parmeggiano reggiano as well as delectable spreads like pesto and cherry mustard. She masterfully explained the process behind creating olive oil and when to use regular olive oil versus extra virgin. Then we all watched in awe as she soaked fresh bread (unsalted of course) with a Tuscan extra virgin that I was sure to purchase before leaving. We were let in on her secret kitchen tips as she simultaneously answered our questions, never wavering from a smiling face. I walked away from that first tasting thinking…if this is any indication of how the entire day will be; I am in for enough knowledge to feel like I actually know what I'm doing in the kitchen.
Tourist Tip: Bring a reusable nylon bag or one comfortable to carry your purchases around…you'll want to shop in the market!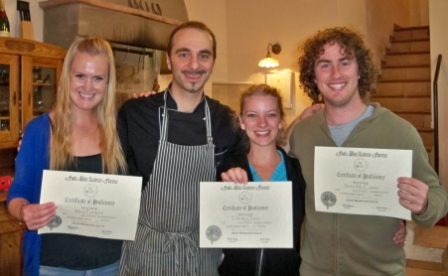 Chef Giovanni then walked us through the rest of the market showcasing his favorite place to eat lunch for 5 euro (including a glass of vino), buy fresh locally grown produce (family owned of course), choose the right cut of beef with the meat master himself – Emilio Guinti, and pick out the best biscotti and sweet wine Tuscany has to offer. We ended the market tour with the ever-adorable Bruna from Cantucci Lory, where we tried more unique balsamic flavors and sampled the sweetest dessert wine I've had thus far. She was a cheerful end to our journey through the divine world of fresh food, and her raspberry balsamic vinegar wasn't too bad either.
Tourist tip: Come with cash…although some places take cards, it's customary to pay with cash pretty much everywhere you go, especially when purchasing from small vendors.
Next stop – the kitchen. Now that we had an understanding of how Italians retrieve their culinary essentials, it was time to get to work. We washed our hands, secured our aprons (which you could purchase if you wanted), and started right in with Tiramisu. Yes please! With an eager crew, there was no shortage of laughter and jokes cracked by the personable and talented Chef Giovanni. We took turns beating egg whites until cloud-like foam formed and got to know each other while simultaneously stirring sugar with the yokes in the other bowls. In no time at all, we were pouring our hard work into dainty dessert glasses; creating layers with cream, espresso soaked biscuits and unsweetened cocoa powder. Into the fridge they went, to chill and enjoy upon completion of our next two tasks.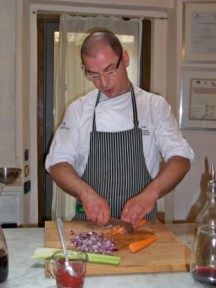 Before diving into the seemingly daunting task of making pasta, we were given a "work" break and served bruschetta by Davide. A gorgeous tray of toasted Tuscan bread with thinly sliced tomatoes, extra virgin olive oil, salt, pepper, and oregano atop. Bellisimo. Giovanni explained the process of how to make this simple yet impressive treat, and then we dug in (with vino rosso from Chianti of course).
Now it was time for the real fun – homemade Ravioli with a butter and sage sauce and Tagliatelle with a traditional Bolognese sauce. For someone who can't even make a bread bowl, this seemed scary…but Giovanni walked us through every step, even the proper chopping technique for the vegetables that went in the bolognese. Joanna, an eager San Francisco-based participant had no problem throwing herself into hands-on work, taking a chopping lesson from the chef. She did great, and there were definitely some laughs during that display!
We all moved into the kitchen to watch the Bolognese come to life then went to work on creating the pasta. With step-by-step instruction and help from both our guiding connoisseurs, everyone created two different types of pasta with ease. I had no idea how easy it was to make pasta from scratch! It was so fun to see the looks of enjoyment and accomplishment on people's faces as they eyed their creations with beaming looks of achievement. It was the most satisfaction I've ever experienced in any kitchen. Not only did we learn exactly what went into our dishes, but also about when and why Italians enjoy these meals, where they originate from, and just how to appreciate the entire process of creating them.
A clean kitchen and set marble countertop later, we were ready to devour the fruits of our labor. There were friendly high-fives and a lot of toasted glasses as we sat down to eat our family-style meal. Even after learning how easy it is to make friends in this city, I truly think sitting down to a meal is the driving force behind bringing people together. That was proven when plates were passed and emails and phone numbers were later exchanged. There was even applause during the presentation of proficiency certificates. Recipe books were also given out so we could practice our newfound skills in our own kitchens.
My experience with the Florencetown cooking class and Chefs Giovanni and Davide was unlike any other. My confidence in the kitchen definitely went from 0-10 in just a day, and I dined in the company of other satisfied tourists that absolutely shared the same sentiment. In fact, four of us took the Chianti bike tour together the next day…so stay tuned for my blog post on that! I can't WAIT to take the pizza and gelato making class so I can expand my skills even more.
Buon Appetito, Tutti!
---