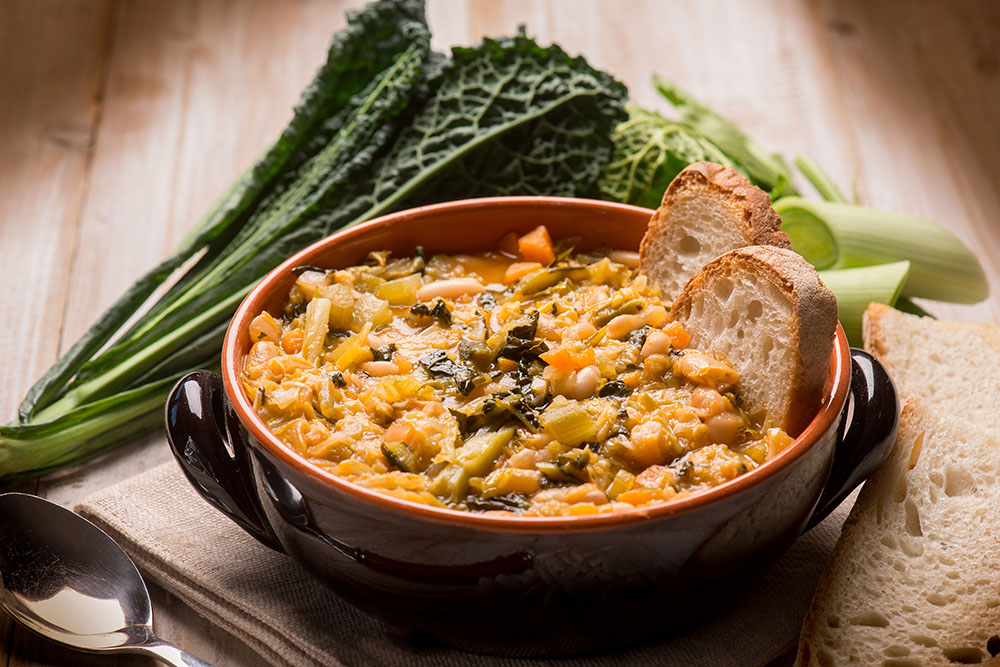 This is one of the best Florentine dishes! This particular recipe mixes traditional tuscan vegetables with bread to create a creamy soup.
Ribollita (typical bread and vegetables soup)
Serves 8 Ready in 90 minutes
400g white cannellini beans
400g black kale
700g cabbage
300g chard
2 potatoes
300g tinned peeled tomatoes
1 onion, 2 cloves of garlic, 2 carrots, 2 ribs celery salt and black pepper to taste extra-virgin olive oil, preferably Tuscan 400g stale Italian bread
The day before, put the beans to soak in 2 liters of water, lightly salty. Boil the beans and sieve 3/4 of them, then add the purée you get to the boiling water. In a big pan brown the chopped garlic and onion with 8 spoons of olive oil. Once they got brow, add the chopped carrot and celery. Add then the other vegetables, washed and cut in pieces. Add the tomatoes and a pinch of salt, and let stew for some minutes. Add the beans stock and boil for 1 hour. At the end add the left 1/4 beans, continue stewing for some minutes and take the pan out from fire. Let stand for a long time, then re-boil (ribollita means "twice-boiled") adding some olive oil. Serve warm, with some olive oil and a pinch of salt and black pepper. Don't add cheese!!
---