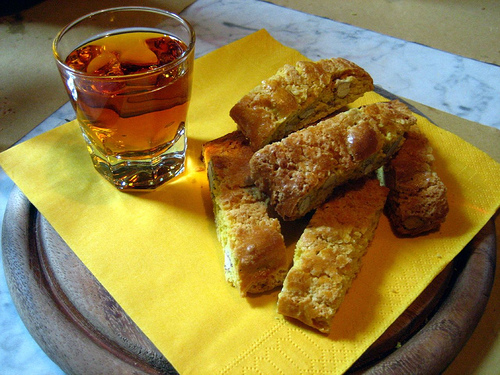 Vin Santo, meaning "Holy Wine" in Italian, derived its name from its use in history as a wine that was drank during religious mass, particularly, during the Holy Eucharist. It is because of this, it is said that this particular name is now used as the umbrella name to describe this specific category of wine.
Although complex and fluctuating between regions and types – the variations range from extremely dry to extremely sweet. Generally speaking, vin santo wine is similar to something of a blend between a wine, hard liquor and a nutty flavour. All in all however, it is very sweet and the colouring is of an amber tone.
What Makes a wine Vin Santo? – The Harvesting Process
– Grapes are harvested during the months of September and October
– Grapes are laid out on straw mats, typically under rafters or staircases
– Grapes are kept at room temperature in a well-ventilated space
– A process of "desiccation" occurs in which, moisture of the grape must evaporate in order for the sugars of the fruit to be at its most concentrate
This ensures that the grapes will be as sweet as possible
– Fermentation process is completed in the following weeks
– For aging purposes, the grapes are typically placed in oak barrels thereafter for a minimum of 3 years, but not uncommonly can remain there for 5-10 years
As tradition stands, it is typically enjoyed at the end of a meal, usually with biscotti called "Cantuccini". It has been a long held tradition in Tuscany that was developed during the Renaissance era, said to have also originated in Florence.
Fortunately, if you're curious to learn more about Vin Santo wine, along with many of the other delicious wines to come out of Tuscany – Florencetown offers a Wine Tour in Chianti in which you can learn about the different characteristics of wine, learn to distinguish the acidity, the taste, and flavor pairing with food.If interested, don't waste any more time, sign up for the tour today and make your visit to Florence the most memorable kind. Cin Cin!
---