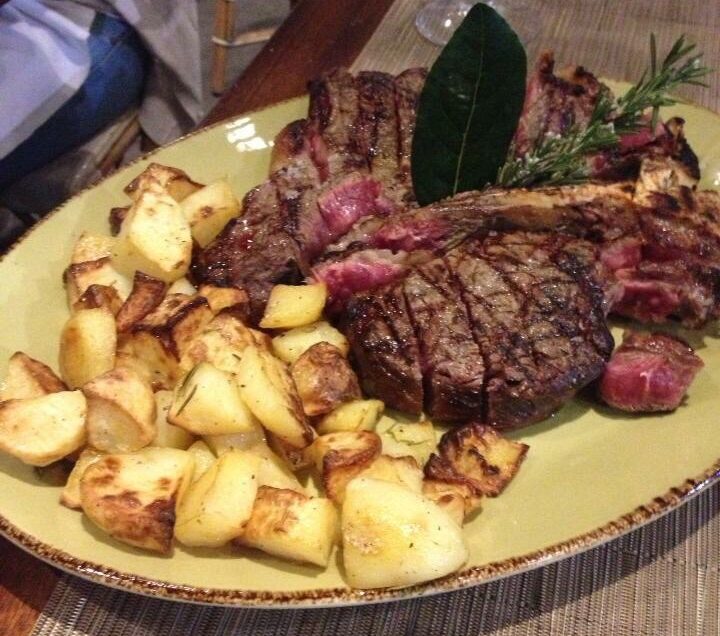 On a Friday night, a friend and I agreed to treat ourselves to a nice dinner with good food and good wine. We found a restaurant with outdoor seating and a lovely view of one of the city's many beautiful buildings, the church of Santa Croce. With our menus in hand, we made a snap-decision to try the "Bistecca alla Fiorentina," after hearing about it from both the visitors and the locals. We were not disappointed! If you've been wondering what to eat in Florence on your visit, definitely try this at least once! What arrived to our table half an hour later was a piece of T-Bone steak big enough for two, cut into a 2.5 inch slab (5-6cm), weighing almost 3 pounds (or about 1.3 kilograms). It was grilled on both sides to a nice brown with a very rare, red, inside meant to preserve the juices and flavors of the meat. There was also very little seasoning for the same purpose, at most maybe a little salt and pepper to allow the natural flavors of the meat come out in the last few minutes of grilling.
What makes this steak specifically Florentine? It's all in the ingredients and the way it's cooked; the chefs might take offense if it's asked to be made any other way! Good luck ordering one well done! To make a proper Florentine steak, the meat has to come from cows raised in or around the Tuscan region, usually a Chianina or Maremmana. As for the way it's cooked, as described before, the steak is browned on both sides and left rare in the middle to get the best flavor possible. For the sides, it's usually served with potatoes or vegetables, and a fresh simple salad. The Bistecca alla Fiorentina can be traced back to the Medici Family at the feast of San Lorenzo where, as the story is told, large amounts of the steak was cooked and given out to the public, but it's possible that the bistecca was around even earlier than that!
Since this traditional Florentine cuisine has become really popular, it's fairly easy to find upon your stay here in the city, however be prepared to pay a little more than average for this meal. Depending on the size and weight of your steak, as well as the restaurant, prices can range anywhere from 30€-60€. If for some reason you're not feeling up to a giant steak but still want to try some traditional Italian cuisine, there are plenty of other options out there for you. For instance, if you're in the mood to cook a traditional Italian meal for yourself (and for your friends and family once you get back home, of course), think about taking the Wanna Be Italiano Cooking Class by Florencetown! The class is offered every day at 10AM and you'll learn how to make two kinds of pasta from scratch! You also learn to prepare a delicious serving of tiramisu for dessert, and last but not least, you will finish off your afternoon by enjoying this wonderful handmade meal! You can reach Florencetown at +39 055 281103 or by email at [email protected] where they can help you plan your stay here in the city! Buon appetito!
---