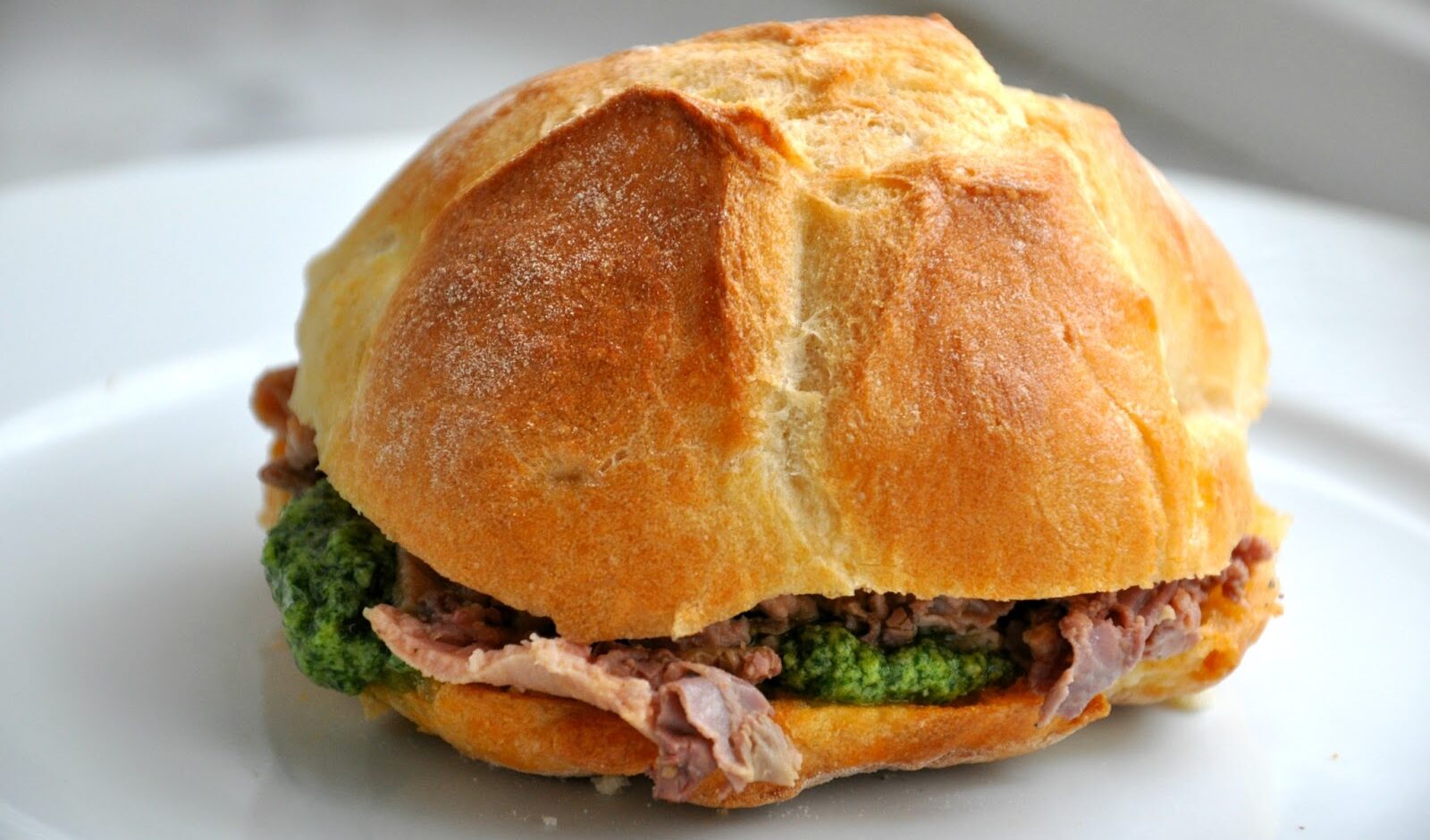 While in Florence, you must try Lampredotto– Once considered a "peasant dish", but now recognized as a popular and classic Florentine street food. While at the Central Market with Florencetown's WannaBe Italiano Cooking Class, I learned all about this classic meat sandwich. This traditional food is made with a version of tripe, the third stomach of the cow served between tuscan bread. But please, don't let that description scare you away!
The meat is cleaned and then boiled in vegetables all day. They chop it up, put olive oil, "verde" sauce and spicy chili sauce and place it between two warmed up pieces of bread. The flavor is all there but sometimes people have a problem with the texture. Sometimes people describe the meat as being spongy or chewy but, personally, I think it is delicious and think that no one should leave the city without trying it. At least grab one and taste it for the "Florentine" or "cultural experience". This sandwich is a Florentine Celebrity; its hard to walk down the street and not see a street cart selling these tuscan treasures. If not, just look for the long line of locals and people chowing down in the streets during their lunch break.
You can easily find this sandwich at the central market or from any of those street vendors around the city, but to see it for yourself and learn more about Italian cuisine, join the WannaBe Italian Cooking Class with Florencetown. Like I mentioned before: your chef will explain Lampredotto and show you one of the best places to find it in the Central Market.
This class runs Monday-Saturday at 10am during the Winter Season. Along with the tour of Central Market and a thorough introduction to typical tuscan foods, you will learn how to make different pastas, sauces and Italy's most famous dessert, tiramisu. You will leave full and satisfied, and no one will force you to eat anything as scary as cow stomach…
Buon Appetito!!
P.S. Please have a look at our main article "What to do in Florence" to find out many interesting activities in Florence and Tuscany!
---