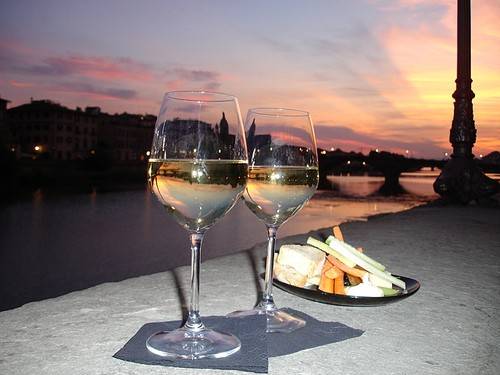 Going out for aperitivo is the best way to set the mood for your evening here in Florence. The idea of aperitivo, also known as "aperitif" or "apericena" in Italian, is to enjoy a light antipasti and a drink before having your real Italian dinner. Many restaurants and bars in the center offer an aperitivo at a great price, with delicious food and an enjoyable atmosphere. You usually pay a small fee between 7€-10€ which covers your choice of drink and an antipasti buffet with an assortment of pastas and side dishes. Some restaurants have themed nights depending on the day of the week, play live music, and they usually have discounts for any additional drinks that you order! I have been recommended multiple spots around the city that have a good aperitivo, as well as been to a few myself, and I'd like to share these places with you! The following restaurants are where you can enjoy your first (or maybe your tenth!) aperitivo in Florence:
Soul Kitchen- Located near Santa Croce, Soul Kitchen hosts one of the best aperitivos in the city. They have a fresh modern interior along with a cool brick-walled lounge for live music events. There's always a large bar with a variety of food, both Italian and foreign, so there's something for everyone to enjoy. They also make really great drinks! Owned and run by the locals in this popular neighborhood, this is a place you don't want to miss! Via de' Benci, 34R.
Moyo- Just down the street from Soul Kitchen is Moyo, with yet another good local aperitivo. Moyo has themed evenings during the week, such as their Mexican food night on Mondays! The bar has a great feel with the dimmed lights and modern setting that makes you feel both cool and cozy. Make sure to get here earlier in the evening, or make a reservation, as they tend to fill up quickly! Via de' Benci, 23R.
Il Baretto del Rifrullo- In the San Niccolò neighborhood of the Oltrarno, Il Baretto del Rifrullo may not be the most trendy place, but their aperitivo is fantastic. If you go early in the evening, you can sit outside on their beautiful terrace and enjoy the fresh air, while eating their great selection of fruits and vegetables, as well as traditional Tuscan bean and potato dishes! Again, you get to have any drink you would like as they start you off with a fresh plate of their daily pasta. Feel free to stop by here on your way back from watching the sunset at Piazza Michelangelo! Via di San Niccolò, 55r.
Volume- Also in the Oltrarno in Piazza Santo Spirito, Volume is a small and quirky jazz bar with a more traditional aperitivo menu. Along with your drinks, you're served a platter with chips, bread, olives, and other refreshing hors d'oeuvres. This place is a favorite for the local Florentines and they usually have a live band playing! Definitely try to make your way here during your stay. Piazza Santo Spirito, 5/R.
If you find yourself craving more good food and drinks, Florencetown offers a Wine and Olive oil tour where you'll learn about local wineries and the history of the Chianti region. You'll get to try different kinds of traditional antipasti, such as bruschetta, crustinis, and cheeses, along with some quality wine tasting!
---