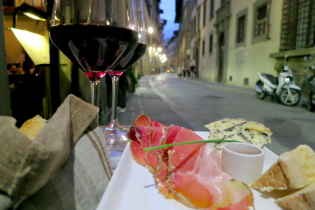 Traveling through Florence and wondering the best way to spend the evening? I can suggest an Italian tradition that combines a great atmosphere with good drinks or wine along with tasty snacks. It goes by the name of 'aperitivo' .
'Aperitivo' comes from the Latin word meaning "to open." It aims to encourage you to feel hungry and get the juices flowing in order to fully enjoy the upcoming meal.
Many like to take to acclaim of the tasty tradition so it can be difficult to pinpoint exactly who originated the delicious aperitivo but there is one common story that seems to stick around, which centers around one man, Gaspare Campari.
Campari started the aperitivo in Milan by opening a small bar called Cafe Campari. At this cafe, Campari created the peculiar drink that took form in a bright red made from a mixture of secret ingredients. This drink was later known as the 'Americano'. The Americano is the combination of vermouth and soda, the personal recipe of Campari, and now Florentine favorite.
Moving forward to the 1920s, Count Camillo Negroni, without even realizing created the next drink that would be known for aperitivos to come. Negroni asked for an Americano with gin instead of soda. It is now one of the most popular palate opener. Soon enough back in Milan, the custom of having a pre-dinner drink became a part of the culture and led to stimulation of the appetite and for the perfect social scenes.
By the 1980s, the pre-dinner drink was then accompanied by food, flourishing into the Italian aperitivo in Florence and all of Italy as well. The atmosphere of an aperitivo centers around socializing but also very well keeps in mind the food. It plays an important role in Italian social life. The drinks are kept low in alcohol content, usually dry or even bitter in taste rather than sweet, and consist of liquors such as prosecco, vermouth, Campari or Aperol.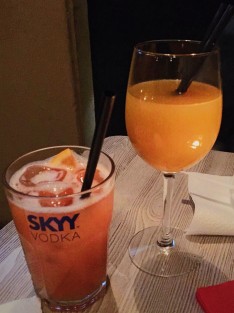 So which drinks are a Florentine hit? There are three for sure that will get your taste buds going such as: the Spritz ( soda, prosecco/sparkling white wine and usually Campari or Aperol), the American (soda, Campari and vermouth garnished with an orange peel), and the Negroni (gin, vermouth and Campari garnished with an orange peel ).
Next. Where to go to enjoy this delightful tradition? Florence is filled with restaurants that offer the aperitivo. One suggestion is Soul Kitchen, located near the Santa Croce area, an economical option that offers a variety ofselection such as pasta, vegetables, and light snacks. Tamero , in the Santo Spirito area, That serves not only the aperitivo classics but other cocktails as well in a more intimate setting. Lastly, The Santino , also in the Santo Spirito area that offers a quaint wine bar where a few crostini and a glass of red or white to pair is in order.
From 7 pm until 9 pm sometimes a little later, restaurants are filled with Florentines and others alike enjoying the perfect combination of a drink and finger foods. After experiencing a taste of Florentine tradition, dive into creating some of the Italian cuisine with an enjoyable Pizza and Gelato Making Class to truly emerge in the divine Italian culture.
Happy Exploring!
---